Business summary
The City of Kyoto and the University Consortium Kyoto (Public Interest Incorporated Foundation) support projects and projects that collaborate with the university/students and local communities to develop the city of Kyoto and revitalize the local community by providing financial support. Collaborative creation and support project (nickname: learning town collaboration project)" is being implemented.
It has been implemented since 2004 with the aim of cultivating human resources by securing practical education and research opportunities for universities, and for local communities to solve problems and revitalize them through the knowledge of universities and the vitality of students. This year will be the 20th year.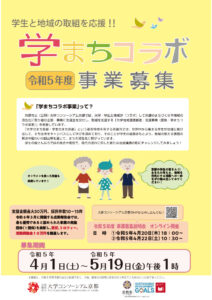 Target business
It will be implemented in Kyoto City during FY2023 (from the date of adoption until the end of March of the following year (2024)) for the purpose of solving problems and revitalizing the region in Kyoto City, and it meets the following requirements. Target your business.
However, political activities, religious activities, activities to disseminate specific ideas, violent or destructive activities, commercial projects, etc. are excluded.
★ For new businesses, those that can be expected to collaborate with the local community in the future are also acceptable.
 Please contact us if you have not decided on a specific partner at the time of application.
[Requirements]
(1) As an organization/group, a project in which the university/student group and the local community (resident groups, civic groups, business operators, etc. mainly targeting the Kyoto city area*) collaborate and work together, especially , activities in which students take the initiative.
 * Administrative agencies may be included as partners, but collaboration with only administrative agencies is not possible.
 Examples:research, citizen lectures, events, etc. in various fields such as health and welfare, social education, community development, promotion of science, culture, art or sports, environmental conservation, community safety, etc.
(2) Those who have not received subsidies, subsidies, etc. from Kyoto City other than the Gakumachi Collaboration Project.
Target group
Universities Consortium Kyoto Member Universities/Junior College Organizations/Groups (*1)  
   Or
Local Organizations (*2) Mainly Active in the Kyoto City Area
As a general rule, only one project can be applied for from the same organization/group. If there are multiple applications, they may be adopted or rejected as a single project. In addition, even if the application is from another organization or group, if it is considered to be the same business, we will determine the handling after confirming the purpose of the business and the collaborating organizations. *Please consult us if you are unsure of your decision. We will consider the details of your application.
(*1) University departments, laboratories, seminars, clubs, student circles (circles composed of students from multiple universities are also acceptable), etc. (*2) Resident
organizations such as community associations and neighborhood associations, civic activity groups, and projects Organizations and groups (shopping districts, etc.) composed of persons, etc.
Amount of support/number of cases
Up to 300,000 yen / About 10 to 15 cases
*In addition, at the result report meeting scheduled to be held in March 2024, we will award the organization (1 organization) that was recognized as the most excellent project (certificate, trophy, activity incentive of 100,000 yen) provided separately).
About application
Recruitment period
Saturday, April 1, 2023 to Friday, May 19, 1:00 p.m.
FY2020 Business Recruitment Briefing *Online
Date: ① April 20, 2020 (Thursday) 6:00 pm ~
   ② April 22, 2020 (Saturday) 10:30 am ~ We
also accept questions about how to write the application form.

*Applications for this year have ended.
How to apply: Step 1 Before you start writing your application
We encourage you to read the master plan of the district in which you will be operating! Also, as much as possible, please listen to the opinions of local residents and related administrative agencies regarding the background of the project implementation and the needs of the community. If you have any questions about the ward basic plan or things to keep in mind when working in the community, you can also consult with the regional power promotion office of each ward office or branch office.
In addition to reconfirming and sharing objectives and goals, let's discuss and think once again within the group whether the business content you are thinking about is the best way to achieve your goals. Also, for continuing projects, let's summarize the efforts so far and organize them so that improvements and novelty can be reflected in the application form.
How to apply: Step 2 Write your application!
<Click here to download the documents related to the 2023 project recruitment>
● 2023 application guidelines
● 2023 "Study Town Collaboration Project" application form (Microsoft Word)
● Application entry example

Point of entry

★Check the judging criteria!
Let's see what criteria they will be judged on.

★What is the business for? Write down your purpose and local needs.
If the group listened to the opinions of the local people or the ward office in step 1, write the details.

★Who are you working with (or planning to work with)? What are their roles? Be specific.
Learning town collaboration emphasizes learning that can be obtained by collaborating with the university/students and the community toward the same goal. If a student group is applying, write clearly what role the partner will play.

★Is it okay to take measures against corona infections?
So that everyone can work with peace of mind, let's carefully consider the necessary infectious disease countermeasures based on the situation of the people involved in initiatives and events (elderly people, people with disabilities, etc.).
If you are having trouble with how to fill out the application form…
"Is this an event involving the elderly? Should I take measures against infectious diseases?" If you have any concerns or questions, please feel free to contact the Consortium of Universities Kyoto. We also accept phone calls, emails and online consultations.
Application method: Step 3 Registration of business outline
Please register your business overview using the form below.
*Applications for this year have ended.
How to apply: Step 4 Submission of application documents
Please fill in the ( 1) application form ( Microsoft WORD) downloaded in step 2 on this page , and (2) submit it along with the reference data (if any) using the submission form below during the application period.
(1) Application document data (Microsoft WORD)
(2) Reference data (up to about 10 pages in A4 size. Please submit in PDF format.) *Only if available *No need to submit
paper documents for both (1) and (2).
*Applications for this year have ended.
Future main schedule
First screening: After application deadline to mid-June 2023
Second screening (public presentation screening): Sunday, June 18, 2023 *Scheduled to be held at Campus Plaza Kyoto.
Support project decision, notification of selection results: early July 2023
Certification ceremony: mid-July 2023 *Certificate issued by Kyoto City for certified projects.
Interim report: Mid- to late-October 2023 *Submit documents
Final report: March 2014 *Submit documents
Debriefing: Mid-to-late March 2024
Contact information
Public Interest Incorporated Foundation Consortium of Universities in Kyoto, Gakumachi Collaboration Project
TEL: +81-75-353-9130 FAX: +81-75-353-9101
MAIL: gakumachi-admin-ml■consortium.or.jp
(Please change ■ to @ before sending. )
Campus Plaza Kyoto, Nishinotoin-dori Shiokoji Shimogyo-ku, Kyoto 600-8216
* Reception hours: Tuesday-Saturday 9:00-17:00