Overview of the business
Since 2005, the Policy Research Exchange Conference has been held from Kyoto with the aim of providing a place for students from member universities of the Consortium Kyoto to discover a wide range of problems and issues faced by cities, propose policy proposals to local communities based on their daily research results, and disseminate information.
Outline of the 17th Policy Research Exchange Conference from Kyoto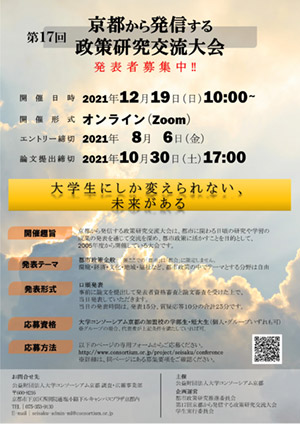 Click here for poster Click here
for flyer
 The 17th competition will be held online (Zoom) as in the previous year to prevent new coronavirus infections, but we are looking forward to your applications by making efforts to improve the number of presentation slots so that as many students as possible can make presentations.
The theme of the presentation was "Urban Policy in General." We are looking for a wide range of research presentations on policies to solve urban issues from various perspectives such as the environment, economy, culture, community, and welfare.
Why don't you research the issues you are aware of, propose policies, and disseminate them?
After the conference, the winners of the top prizes will have a chance to exchange opinions with administrative officials regarding the content of their presentations and deepen their research.
Please fully demonstrate the results of your daily research and learning at this competition!
Re
Sunday, December 19, 2021 10:00~17:00
*The end time may vary slightly depending on the number of applicants.
Venue format
Online (Zoom)
Hosted
University Consortium Kyoto
Planning & Operation
Urban Policy Research Promotion Committee The 17th Policy Research Exchange Conference from Kyoto Student Executive Committee
Presentation
Theme
Clarify the awareness ≫
issues and issues to keep in mind ≪ urban policy in general (the term "city" here is not limited to "urban"),
and structure the policy proposal so that it is concrete and original based on the background and current situation as the basis for the policy and analysis.
Presentation format on the day: Oral presentation After submitting a paper in advance and undergoing a presentation qualification screening and thesis review, you will participate from Zoom on the day of the conference and make an oral presentation
.
The presentation time is 25 minutes, 15 minutes for the presentation and 10 minutes for questions and answers.
* Please note that the call for panel presentations, which have been held up to the 15th Congress, will not be held this year, but will only be oral presentations.
About application
◆Please check the application guidelines for details.  

■Eligibility
Undergraduate and junior college students of member schools of the University Consortium Kyoto (both individuals and groups are acceptable)
* In the case of a group consisting of students from multiple universities, it is acceptable if the representative is a student from a member school of the University Consortium Kyoto.
* Administrative procedures related to the competition, such as entry and thesis submission, must be performed by the above qualified persons.
■How to apply
Step 1 Entry (Deadline: Friday, August 6, 2021)Entries
are now closed.
Step 2 Submission of paper (Deadline: Saturday, October 30, 2021, 17:00)
Please enter the reference number and required information given in the procedure in Step 1 and upload your thesis. Submission by e-mail is not possible.
■Please take a look at the video explaining the tournament
as a reference for your application. The first part contains an overview of this competition, and the second part contains explanations of research surveys and thesis writing methods by the competition judges.
Explainer video (first part)
・ Explanation video (second part)
・Video of oral presentations by 2020 Research Encouragement Award winners
Step 1 Entry by Friday, August 6, 2021
Entries are now closed.
If you have any questions about your entry, please contact us at the following address.
Step 2 Paper submission until 17:00 on Saturday, October 30, 2021
Be sure to create according to the following specifications and submit two types of files: Word files and PDF files.
Presentation Paper Preparation Guidelines
Presentation Paper Template
When submitting, you need to enter the "Presentation Summary (400 characters or less)" and select the "Target SDGs" logo on the form, so please prepare in advance.
Please click the button below to proceed to the thesis submission form.

Flow after submission
The submitted papers will be screened for presenter qualifications, and in mid-November, we will notify you of the eligibility for presentation to the email address you entered in the application form.
◇◇About the paper◇◇
・Please note that if the paper is not prepared in the specified format, you may not be eligible for publication.
・Submitted papers are subject to thesis review.
・Please note that the papers of oral presenters will be published on this website as data as a collection of papers (booklets that were distributed at the venue until 2019 will not be distributed).
・The PowerPoint data used for the papers presented by the winners of the Research Encouragement Award (excluding the Best Question Award) and the oral presentations on the day of the conference will be posted on this website and the "Gakumachi Station" portal site for university-regional cooperation after the conference (publication will be confirmed individually).
Reference: Click here for PowerPoint papers and oral presentations of the 16th Annual Research Encouragement Award
Main schedule (updated as needed)
| | |
| --- | --- |
| Late June, 2021~ | Briefing session for prospective applicants (video distribution) |
| Friday, August 6, 2021 | Entry Deadline |
| Saturday, October 30, 2021, 5:00 p.m. | Paper Submission Deadline |
| Late November, 2021 | Pre-briefing session for presenters (online) |
| Sunday, December 19, 2021 | The 17th Policy Research Exchange Conference from Kyoto |
Student Executive Committee Member Recruitment
 The "Policy Research Exchange Conference from Kyoto" held every December is held with the aim of deepening exchanges beyond the boundaries of universities and seminars for students in Kyoto who are engaged in daily research to identify issues faced by cities and solve them, and to become a place for policy proposals and information dissemination to society. The Student Executive Committee conducts public relations activities for the tournament, manages and facilitates the event, and plans and implements events.
We are looking for members of the Student Executive Committee to support the "Policy Research Exchange Conference from Kyoto", so please apply.
<Role of the Student Executive Committee>
▼ Planning, preparation, and operation
of "Student Projects" to be held during the conference ▼ Implementation
of preliminary briefing sessions for conference presenters ▼ Activities of the Student Executive Committee and publicity of the conference (poster creation, SNS transmission, etc.)
The Student Executive Committee is recommended for people like this!
▼ Those who want to get involved with students from various universities ▼ Those who are motivated to liven up the tournament ▼ Those who want to publicize using poster design and SNS ▼ Those
who want to try new things
Student Executive Committee Members Click here to enter
Past Student Projects (for the last 5 years)
2020
Workshop (Online)
Theme: The future in which we live ~How to contribute to the local community~ (Workshops will be held online in the fields of "community development", "transportation", and "tourism and culture")
2019
Lecture
Theme: A future that coexists with AI ~What are the necessary thinking lessons~ Guest: Kaoru Takeuchi (Science Writer, Principal of Yes International School)
2018
Questionnaire-linked lectures
Theme: A to Z
, a town where young people want to live Guest: Naoki Shiomi (Project Associate Professor, Faculty of Regional Management, Fukuchiyama Public University)
2017
Panel Discussion and Lecture
Theme: Challenge for the future !!
Guests: Takashi Yamada (City Promotion Section Manager, Regional Revitalization Promotion Division, Planning and Production Department, Shiojiri City Hall), Kentaro Suda (President of Free Plus Co., Ltd.)
2016
Workshop
Theme: Let's think about reconstruction!
Guest: Ryoga Ishihara (Lecturer, Faculty of Policy Studies, Ryukoku University)
Main annual activity schedule (tentative)
March~

Recruitment of new members

May~

Creation of flyers and posters for submissions for presenters

June~

Student Planning

Late June~

Briefing session for prospective applicants (video distribution)

September~October

Creation of flyers and posters for the convention

November 2008

Briefing session for those who are scheduled to present the conference

December 2008

Tournament preparation, actual competition
In fiscal 2020, in view of the impact of the new coronavirus infection, we refrained from face-to-face activities as much as possible and conducted them online. In the 2021 academic year, based on the situation of the new coronavirus infection, we will continue to carry out the activities of the Student Executive Committee.
Contact information
Consortium of Universities Kyoto
, Research and Public Relations Division, Shigenaka and Nomura
E-mail seisaku-admin-ml■consortium.or.jp (Please change ■ to @ and send)
TEL 075-353-9130 FAX 075-353-9101
600-8216 Campus Plaza Kyoto
, Shimogyo-ku, Kyoto *Reception hours: Tuesday ~ Saturday 9:00~17:00 (excluding year-end and New Year holidays)