In response to the spread of the new coronavirus infection, I understand that each university is working to implement online lectures.
Based on the Act on the Elimination of Discrimination against Persons with Disabilities enacted in 2016, educational institutions are required to make efforts with an eye on reasonable accommodation, but we have received comments from staff members of member universities who are in charge of some practical operations that "the current situation alone is severe."
We have compiled a list of sites on the Foundation's website that disseminate useful information about the case, so we hope you will make use of them.
We hope that this information will help you promote reasonable accommodation.
Distinctive Initiatives by Inter-University Research Institutes, NPO Corporations, etc.
National Institute of Informatics
■ According to the
Study Group on the Information Environment of Universities "Cyber Symposium on Sharing the Status of Initiatives for Remote Classes at Universities and Other Institutions from April"
https://www.nii.ac.jp/event/other/decs/
< Overview>
It is established
for the purpose of sharing information on the preparation status of remote classes among as many universities as possible. Videos and materials are posted for each agenda item.
Japan Higher Education Support Network for Deaf Students (

PEPNet-Japan

)
■Remote Information Security Support Guidelines
http://www.pepnet-j.org/web/modules/tinyd1/index.php?id=279&tmid=371
< Overview>
PEPNet-Japan introduces an overview
of the operation of the "Remote Information Security Support Practice Manual" edited and
published by PEPNet-Japan for universities that are considering the introduction of Remote Information Security Support.
NPO Yuni
■Method of remote character information security in online lectures (case study of Zoom and captiOnline)
< Overview>
For deaf students, a practical method (free of charge) that combines online lectures and text information security is introduced
.
Distinctive Initiatives by University Organizations and Experts
University of Tsukuba Diversity, Accessibility and Career Center
■Handling of remote classes assuming students with disabilities (ver.1)
https://dac.tsukuba.ac.jp/shien/20200409-1/
< Overview>
The Diversity, Accessibility, and Career Center, an organization within the University of Tsukuba, presents easy-to-understand solutions to each issue that tends to occur during
remote classes.
Association to Support Online Classes for Visually Impaired Students
Accessible online lectures for visually impaired students
https://psylab.hc.keio.ac.jp/AOL4SVI/index.html
< Overview>
It was established to share know-how with experts led by
Professor Yasushi Nakano of Keio University, who provides ICT-based support to visually impaired students.
It summarizes information for people
in various positions, such as faculty members in charge of lectures and faculty members belonging to the Support Division for Students with Disabilities, and introduces responses and points to note.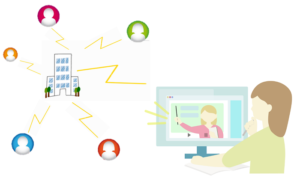 <Disclaimer>
Although TABF strives to ensure the completeness
of the posted information, it does not specifically guarantee the accuracy, completeness, validity, immediacy, or timeliness of the posted information.
In addition, the user understands and agrees that the staff of the Foundation shall not be liable for any disadvantage or damage incurred by the user as a result of the use of the
posted information, and shall not receive any guarantee by using the posted information
.
Secretariat (Inquiry)
University Consortium
Kyoto Student Support Division
Reception hours: Tuesday ~ Saturday 9:00 ~ 17:00 (closed on Mondays)
〒600-8216 Campus Plaza Kyoto, Shimogyo-ku, Nishinotoin-dori Shiokoji Sagaru Kyoto
TEL:075-353-9189 FAX:075-353-9101
mail:gk-ml■consortium.or.jp (please change the ■ part to @ and send an email)