Outline of the event
As part of the Foundation's support project for students with disabilities, the Higher Education Accessibility Platform (HEAP) and the "Information Security Coordinator Course (Basic)" will be jointly held as follows. Faculty and staff who are interested in supporting students with disabilities are welcome to join us.
◆Lecture Outline:
There is no one-size-fits-all method for supporting students with disabilities. For example, it is common to provide "information security" to students with hearing impairments, but the specific method of doing so depends on the individual needs and the type of lecture they take. Therefore, expertise is required to appropriately coordinate study support for hearing-impaired students. In this course, in coordinating information security, students will learn basic knowledge and skills based on case studies and experiences. (
Click here
for PDF data of the flyer).
〇 Basic knowledge
of hearing impairment 〇 Examples
of system development (support student training, honoraria, etc.) 〇 Consider
coordination methods based on fictitious cases 〇 Experience
of support methods (PC take, voice recognition) ◆Date & Time: Thursday
, March 7, 2019 14:30~17:00 (Doors open)
※14:00 ~ 14:20 You can visit the Kyoto University Support Room for Students with Disabilities (If you would like to visit, please register from
this
application form)
◆Venue: International Science Innovation Building, Yoshida Campus, Kyoto University, East Building 5F, 5a/5b
※Click
here
for details of the venue ( Please refer to the PDF data of the flyer).
◆Target:
Faculty and staff
of higher education institutions ◆Capacity: 20 people (up to 2 people per institution) ◆Admission: Free
【Organizer】University Consortium Kyoto, Higher Education Accessibility Platform (HEAP)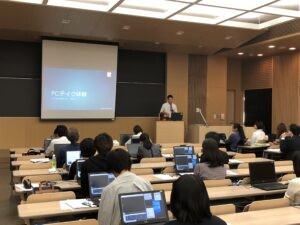 How to apply
If you would like to participate in this course, please register from
this
application form.
* If you cannot send the application form, we will respond by e-mail separately, so please contact the contact information below.
◆Application period :(Member schools of the Foundation and HEAP partner schools) January 31, 2019 (Thursday
) ~ (other than our member schools) February 5, 2019 (Tuesday
) ~
* Application will be closed as soon as the capacity is reached.
◆ Remarks: If you need to consider your disability when participating, please contact us at the time of application (application form or email).
Secretariat (Contact)
University Consortium Kyoto Student Support Division Reception hours: Tue~Sat 9:00~17:00 〒600-8216
Campus Plaza Kyoto
, Shimogyo-ku, Kyoto
TEL:075-353-9189 FAX:075-353-9101 mail:gk-ml■consortium.or.jp (please change the ■ part to @ and send an email)