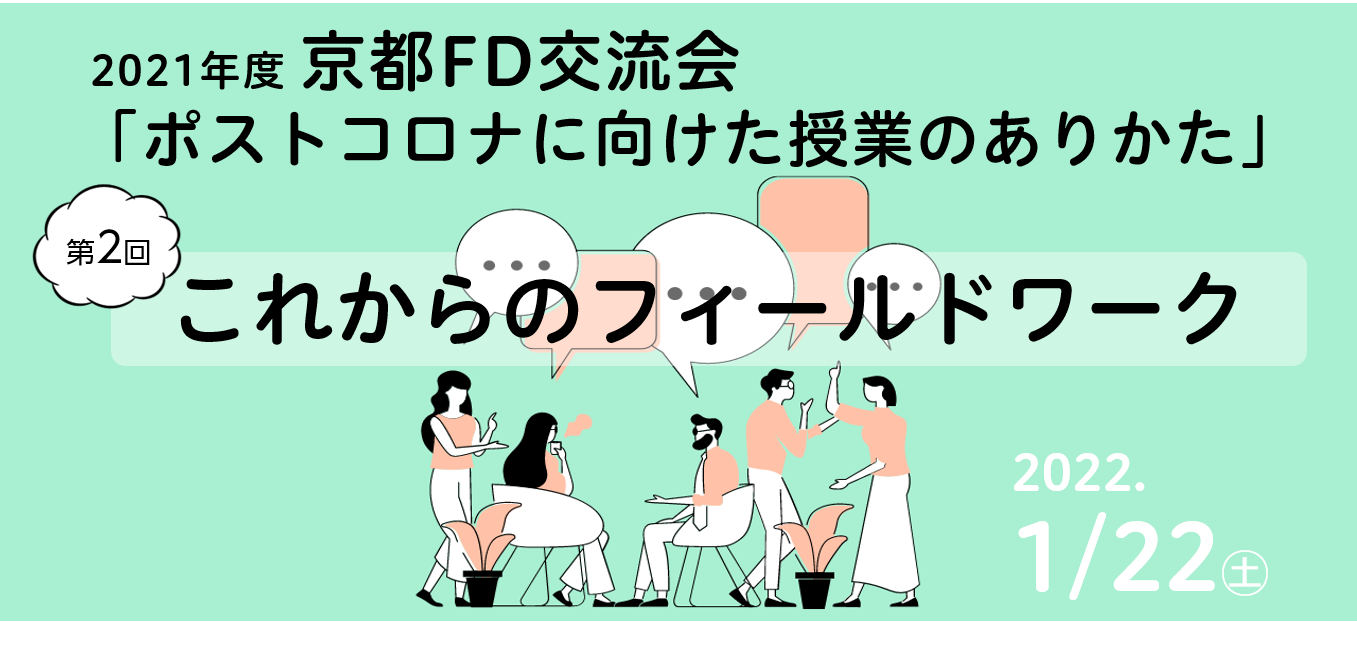 The 2021 Kyoto FD Exchange Meeting will be held three times under the unified theme of "How to Teach for Post-Corona."
In this second installment, we will consider "fieldwork".
The spread of the new coronavirus may have had an immediate impact on fieldwork, forcing a review of implementation methods and standards.
Two universities will provide topics about the changes in classes based on fieldwork in the coronavirus pandemic and future concepts, and then the presenter and participants will consider "future fieldwork" in the regular curriculum.
Why don't you go beyond the boundaries of universities and think about the future of fieldwork together with faculty and staff from other universities?
This is not a "workshop" but an "exchange meeting", so please feel free to join us.

■

Date: Saturday, January 22, 2022, 13:00~16:00
■

Target: University / Junior College Faculty and Staff * Limited to those who can use Zoom.
■

Format: Online (Zoom Meeting)
■

Participation fee: Free
■

Capacity: About 30 people
■

Schedule 
13:00~13:05

Opening and Explanation

13:05~13:45

Case Reports
1. "How to proceed with fieldwork
in collaboration with the community" Presenter: Yui Ohara (Lecturer, Department of Community Design, Faculty of Sociology, Otani University) ■Specific fieldwork content
・Creating a place to belong in collaboration with welfare facilities (children's cafeteria, salon for the elderly)

■Frequency and number of days of
fieldwork   ・1-2 times/month
・About 2 days and 1 night using long vacation  

2. "How to conduct fieldwork in the Faculty of Interdisciplinary Studies"
Presenter: Satoshi Nagano (Associate Professor, Faculty of Industrial Sociology, Ritsumeikan University) ■List of specific fieldwork destinations
・Natori City, Miyagi Prefecture (Earthquake Reconstruction Area Management Research)

・Shima City, Mie Prefecture (Gerontology Research, Wellness Tourism Research) ・Eiheiji Town, Fukui Prefecture (Sharing Economy Research) ・Tokamachi City, Niigata Prefecture (Regional revitalization research utilizing contemporary art) ■ Frequency and number of days of fieldwork ・ 1-2 times / month (pre-corona), 3-4 times / year (corona disaster)




 ・During class periods: 2 days 1 night on weekends / During long vacations: 3 days and 2 nights    

13:45~14:00

Group Work
Participants will be divided into groups to gather questions and opinions for the presenter.

14:00~14:40

Questions and exchange of opinions with presenters

14:40~15:30

Group Work
Participants are divided into groups to exchange information and opinions.

15:30~16:00

Overall sharing and summary

16:00

Closing and Questionnaire Responses
■

Precautions
・ Please participate from a PC or tablet device that can be stably connected to the Internet on the day of the event.
・Since this is a workshop-type exchange meeting, it is recommended to participate with the video microphone turned on.
・Please refrain from recording by participants. Please strictly adhere to it.
Application deadline: Thursday, January 20, 2022, 17:00
* If the capacity is reached, the application may be closed before the deadline.

Contact information
Consortium of Universities Kyoto in charge
of FD business TEL 075-353-9163 FAX 075-353-9101
〒600-8216 Campus Plaza Kyoto
, Shimogyo-ku, Kyoto ※Business hours: Tue~Sat 9:00~17:00