The FD Joint Training Program and Thematic Training is a small-group training program aimed at acquiring skills such as basic knowledge of FD, creation of syllabi, lesson design and practice, active learning, and grading for newly appointed teachers, teachers who want to relearn the basics of FD, faculty members who are interested in FD, and staff working in FD-related departments. In fiscal 2021, a total of six sessions will be held online (Zoom).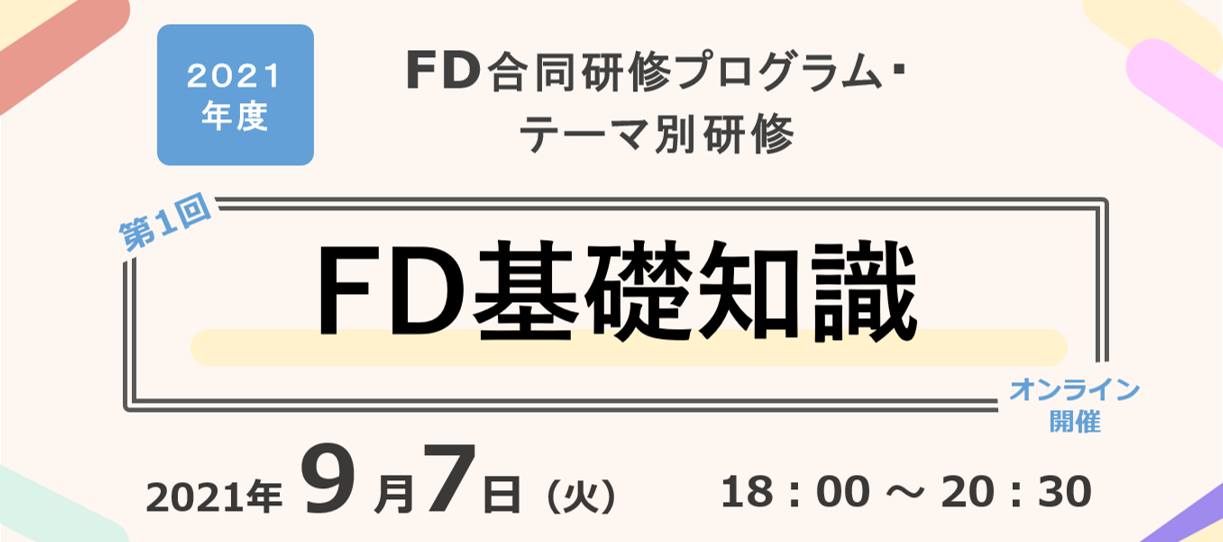 The first "FD Basic Knowledge" will be held as follows.

This training is mainly for FD beginners. I have in mind those who are interested in FD but don't know where to start. In this program, participants will first receive information about FD training opportunities provided by the University Consortium Kyoto and the Foundation. Next, we will confirm the basic knowledge about FD. One of the essential elements of FD is dialogue between faculty and students. In this training, based on the confirmation of basic knowledge of FD, students will learn the basic knowledge (significance of the syllabus and how to describe it, etc.), which is the first step in dialogue between faculty and students.

We look forward to receiving applications from many of you.
●

Date: September 7 (Tue) 18:00~20:30
●

Target: University and junior college faculty and staff * Not only faculty members, but also staff
        
who are interested in FD are eligible.
●

Format: Online (Zoom webinar)
●

Participation fee: University Consortium Kyoto Member Universities and Junior Colleges Faculty and staff: Free
For those other than the above: 1,000 yen (tax included, advance transfer system)
●

Capacity: about 30 people
Click "Click here for details"
to see details of all programs scheduled for this year and how to apply.
Contact information
Consortium of Universities Kyoto in charge
of FD business TEL 075-353-9163 FAX 075-353-9101
〒600-8216 Campus Plaza Kyoto
, Shimogyo-ku, Kyoto ※Business hours: Tue~Sat 9:00~17:00