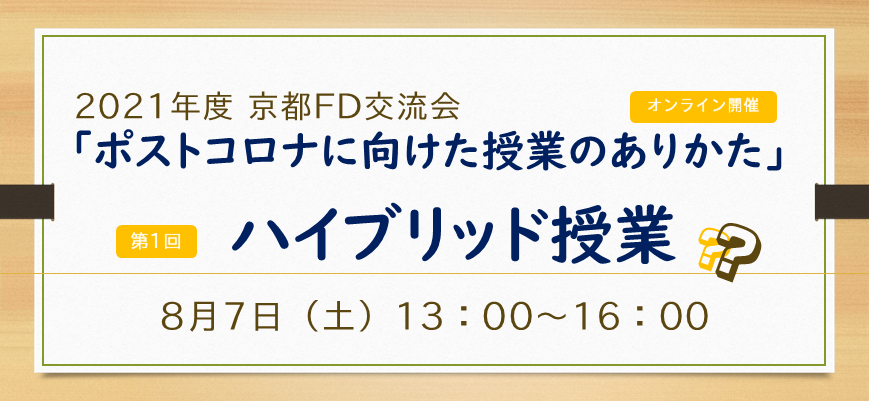 The 2021 Kyoto FD Exchange Meeting will be held three times under the unified theme of "How to Teach for Post-Corona."
In fiscal 2020, due to the Corona disaster, online classes were held at many universities and junior colleges.
Even in the future post-corona era, it is expected that classes using online tools will continue to be required.
Therefore, in the first session, under the theme of "hybrid classes (?)", we will consider the combination of face-to-face classes and online classes.
Four universities will report on the online classes currently being implemented, and then the presenters and participants will share information and exchange opinions on how to implement hybrid classes, advantages and disadvantages, and future lesson design concepts, which will be required in the post-corona era.
Why don't you work with faculty and staff from other universities to think about "how classes should be for the post-coronavirus" beyond the boundaries of universities?
This is not a "workshop" but an "exchange meeting", so please feel free to join us.

■

Date August 7 (Sat) 13:00~16:00
■

Target: University / Junior College Faculty and Staff * Limited to those who can use Zoom.
■

Format: Online (Zoom Meeting)
■

Participation fee: Free
■

Capacity: About 30 people
■

Schedule 
13:00~13:05

Opening and Explanation

13:05~14:00

Case Report
(1) Online classes at
Bukkyo University Presenter: Shinji
Matsumoto (Professor, Dean of the Faculty of Letters, Bukkyo University / Chairman, Kyoto FD Planning and Research Committee, University Consortium)

(2) Online classes at Ritsumeikan
University Presenter: Susumu
Nakata (Deputy Dean, Faculty of Education, Ritsumeikan University / Director of the Center for Educational Education and Learning Support / Professor, Faculty of Information Science and Technology)

(3) Online classes at Kyoto Notre Dame Women's University Presenter: Shinobu
Kobayashi (Director, Education Support Department, Kyoto Notre Dame Women's University
/ Administrative Director, ND Education Center)

(4) Online classes 
at Kyoto Tachibana University Presenter: Mr
. Takero Nishino (Lecturer, Educational Development and Learning Support Office/Faculty of Business Administration, Kyoto Tachibana University)

14:00~14:20

Group work and breaks
Students will be divided into groups and will ask questions and summarize their opinions to the presenter.

14:20~15:00

Questions and exchange of opinions with presenters

15:00~15:30

Group Work
Participants are divided into groups to exchange information and opinions.

15:30~16:00

Overall sharing and summary

16:00

Closing and Questionnaire Responses
■

Precautions
・ Please participate from a PC or tablet device that can be stably connected to the Internet on the day of the event.
・Since this is a workshop-type exchange meeting, it is recommended to participate with the video microphone turned on.
・Please refrain from recording by participants. Please strictly adhere to it.
■

Application
The application has been closed because the capacity has been reached.
Contact information
Consortium of Universities Kyoto in charge
of FD business TEL 075-353-9163 FAX 075-353-9101
〒600-8216 Campus Plaza Kyoto
, Shimogyo-ku, Kyoto ※Business hours: Tue~Sat 9:00~17:00