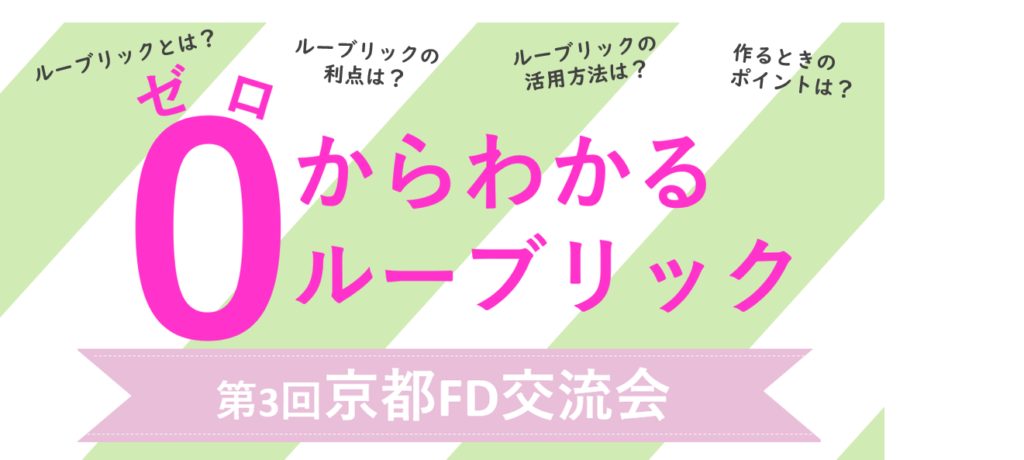 Let's learn the basic knowledge about rubrics, share daily questions and issues with instructors and participants,
and think about creating and utilizing better rubrics together!

The 3rd Kyoto FD Exchange Meeting
"Rubric from Scratch"

We have launched the "Kyoto FD Exchange Meeting" as a place where you can interact with faculty and staff of other universities on various themes related to FD beyond the boundaries of your university.

In the third session, Mr. Gary Tsuchimochi (Vice President and Professor, The Kyoto College of Graduate Studies for Informatics/Director of the Center for Higher Education and Innovation) will be invited as a lecturer to give a lecture on the basic knowledge of the rubric and how to utilize it. He will also touch on the "ICE Rubric", which is an evolution of the rubric.

We are looking forward to accepting applications from those who want to learn rubrics from scratch and those who want to deepen their understanding of rubrics.

You can see the first and second sessions from the following URL.

https://www.consortium.or.jp/project/fd/interaction
◆ 3rd Information Flyer [Download here]

Would you like to

Saturday, February 22, 2020 13:30~16:30 Kyoto FD Exchange Meeting
13:00~15:00 Opening and Self-Introduction
13:40~15:00 Lecture "Rubric~Is it possible to visualize learning outcomes?"
15:10~16:30 Group Discussion

Venue

Campus Plaza Kyoto 2F Hall
■Eligibility
Faculty and staff
of universities and junior colleges * Full-time or part-time, regardless of the number of years of work * Participation is possible regardless
of member school or non-member school.
■Capacity
: About 24 people (first-come, first-served basis)
■Participation fee
: Free
■Application
* Application has been closed because the capacity has been reached.

■Inquiries
University Consortium Kyoto FD Project TEL 075-353-9163 FAX 075-353-9101
〒600-8216 Campus Plaza Kyoto Shiokoji, Shimogyo-ku, Kyoto

※Business hours: Tuesday~Saturday 9:00~17:00 (excluding year-end and New Year holidays)