The 2017 Joint FD Training Course (Program B) for New Teachers will be held on February 17 and 18.
Although the name of the program is "New Teachers," there is no limit on the number of full-time, part-time, or working years because the program is useful for teachers at all career stages.
Please use it as a place for university faculty members in the Kyoto area to interact.

It is possible to participate only on one of the two days, but we recommend that you participate for two days due to the structure of the program.
【Information】
From FY2018, we plan to significantly change the implementation form of this training program (schedule, program structure, award of completion certificate, etc.).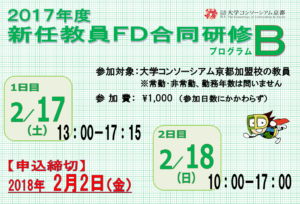 2017 Joint FD Training Program for New Teachers (Program B)
Date: Saturday, February 17, 2018, 13:00~17:15
Date: Sunday, February 18, 2018, 10:00~17:00

Venue: Campus Plaza Kyoto【Access】

Target: Faculty members of the University Consortium Kyoto member universities and junior colleges * Full-time or part-time, regardless

of the number of years of work Participation fee: ¥1,000 (uniform regardless of the number of days of participation)
* Please

pay the participation fee at the reception desk on the day of the event. Contents:
New Teacher FD Joint Training Program B Flyer [Click here for details]
Day 1 (February 17th)
13:00~17:15
 1. Kyoto, a city of universities and universities in Kyoto

Lecturer: Akira Mawatari (Deputy Secretary General, University Consortium Kyoto


)

 2. Workshop


for lesson design

Lecturer: Kazuharu Abe (Kyoto Koka Women's University)

Day 2 (February 18th)
10:00~17:00
 3. Class Practice Workshop
Lecturer: Kazuharu Abe (Kyoto Koka Women's University)

 4. Workshop


for Grading

Lecturer: Manabu Fujiwara (Ryukoku University)
* Due to various circumstances such as weather, the schedule may be changed or canceled.
*About the 2017 Newly Appointed Teachers' FD Joint Training Program A and B [Click here for details]
How to apply:
For part-time teachers of < member schools> E-mail application
Please fill in
the following information and apply to fdrd■consortium.or.jp (please change ■ to @ and send)
Subject: Application
for New Teacher Training B (part-time) Full Text: (1) Name (Furigana)
  (2) Name of the university where you work (3) Teaching field (4) Number of
years of teaching (5) E-mail address (6) Desired date of participation (e.g., 2/17 only, 2/18 only

on both days) * We will send you an email after receiving your application. If you do not receive the email by Wednesday, February 14,
Please contact FDRD■consortium.or.jp. (Please change ■ to @ and send)

<Full-time faculty members of member schools>
Please contact the department in charge of your university or junior college.
Application deadline: Friday, February 2, 2018
Contact:
Consortium of Universities Kyoto FD Project
TEL 075-353-9163 FAX 075-353-9101
〒600-8216 Campus Plaza Kyoto
, Shimogyo-ku, Kyoto *Reception hours: Tuesday ~ Saturday 9:00~17:00 (excluding year-end and New Year holidays)