We are pleased to announce the release of reports on the 22nd FD Forum "Disseminating the Educational Capabilities of Universities" held on March 4 and 5, 2017. Click each item to view the PDF data.
The next 23rd FD Forum will be held on March 3 and 4, 2018.
Details of the event will be announced on the website around the beginning of December.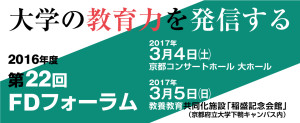 ■Day 1: Saturday, March 4, 2017
Opening Remarks
Symposium

Disseminating the Educational Capabilities of Universities ~Reform of Liberal Arts Education and Modern Society~

■Day 2: Sunday, March 5, 2017
Subcommittee 1

Imadoki's University Education and "Good Learning" ~


Issues and

Practical Tips for First-Year Education and Common Education Found in Co-Creation Workshop~

Subcommittee 2

Design of Basic Science Education

Subcommittee 3

The choice of a women's university in the midst of diversification of education

Subcommittee 4

Planning and management of FD based on the context of the university's own university

Subcommittee 5

How to improve learning outcomes in undergraduate seminars

Subcommittee 6
The True Hopes

and Hopes of "Middle Leaders" Teachers Responsible for Educational Reform




~The State of Middle Management~

Subcommittee 7

Universities and Theaters, Museums

Subcommittee 8

Specialized education in the field of health and medical care: Raising the independence, satisfaction, and level of understanding of learners

Subcommittee 9

Learning Commons for Students by Students

Subcommittee 10

Self-education as liberal arts education


~Issues and

prospects related to the realization of the "founding spirit and philosophy"~

Subcommittee 11

Exploring the visualization of education that fosters students' independent learning and autonomy

Subcommittee 12

From "Active Learning" to "Interactive Learning"




~ 【Educational Update】Exploring the Next Education of Active Learning~

Subcommittee 13

Classes and Fieldwork ~How to Connect the Inside and Outside of the Classroom~

Subcommittee 14

On-site educational capabilities in disaster recovery support activities

Subcommittee 15

Life skills as a liberal arts

Poster session
Consortium of Universities Kyoto FD Project
TEL 075-353-9163 FAX 075-353-9101
〒600-8216 Campus Plaza Kyoto
, Shimogyo-ku, Kyoto *Reception hours: Tuesday ~ Saturday 9:00~17:00 (excluding year-end and New Year holidays)