Kyoto FDer Juku sponsored by the University Consortium Kyoto.
In order to train faculty and staff who will become leaders in FD activities at member schools of the University Consortium Kyoto, the event is mainly for FD committee members of each university and junior college and faculty and staff who are in charge of FD administration. Everyone, please join us.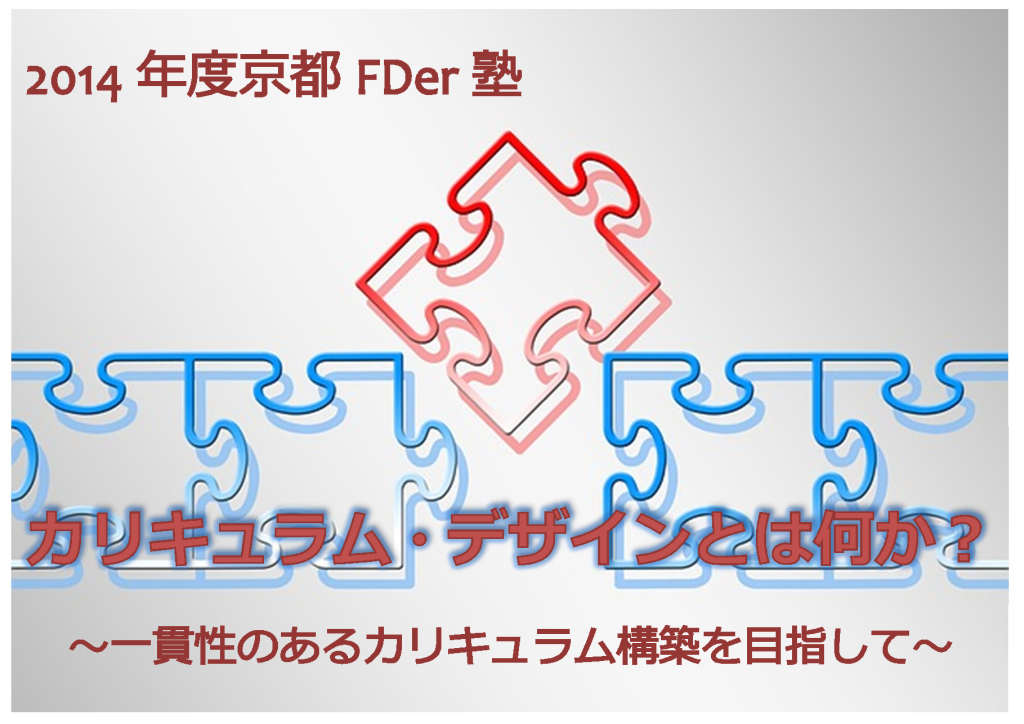 Kyoto FDer Juku 2014 What is curriculum design?
~Aiming to build a consistent curriculum~
Outline of the event
Schedule
Saturday, January 24, 2015 13:00~17:00 (Doors open at 12:30)
Venue
Campus Plaza Kyoto 5F Lecture Room 1
Target
University faculty, staff, and the general public who are interested in FD
Capacity
150 (first come, first served)
Participation Fee
For members of member schools: Free
For non-members: ¥1,000 (Please pay at the reception desk on the day)
Lecture contents
Theme
What is curriculum design?
~Aiming for Consistent Curriculum Design~
Outline    
In recent years, Japan higher education has been required to transform into an organizational and systematic curriculum based on diploma policies and curriculum policies.
Although each university has been tackling various issues through educational reform and FD, it is said that society is still dissatisfied with the current achievement of improvement in undergraduate education.
The most notable aspect of the realization of undergraduate education as a program is the policy-based curriculum design.
How will the conventional curriculum be transformed from teacher-centered curriculum to an organized and systematic curriculum?
Also, how is specialized education and so-called general education positioned in the curriculum conducted at each university, and how should they be related?
Based on this awareness of the issues, participants will share the process and content of discussions from previous cases of universities that have specifically worked on curriculum reform, and will provide an opportunity for participants to obtain hints on problem solving and optimal decision-making processes at their home universities.
Keynote Speech

"Curriculum
Formulation to Realize DP" Mr. Tatsuo Kawashima (Professor, Institute for Future Strategies, Osaka University)

Case Study
Kenji Furuya (Professor, Institute of Core Education, Kyushu University)
Nobuko Kawahara (Professor, Faculty of Nursing, Kyoto Tachibana University)
Shigeo Kikuchi (Professor, Dean of Tamagawa University) 
Chair
Takashi Yasuoka (Professor, Ritsumeikan University Educational Development Promotion Organization)
Information flyer [2014 FDer Juku information leaflet]
How to apply: Apply by e-mail
Subject: "0124 Kyoto FDer Juku Application"
Text: (1) Name (2) University (3) Faculty members, staff, and the general public (4) E-mail address
Please apply by e-mail to fdrd■consortium.or.jp with the above contents. (Please change ■ to @ and send it) We will send you a confirmation email after receiving your application.

About Kyoto FDer Juku

Contact Us
Consortium of Universities Kyoto FD Project
TEL 075-353-9163 FAX 075-353-9101
〒600-8216 Campus Plaza Kyoto, Shimogyo-ku, Kyoto
, Shiokoji-dori ※Reception hours: Tuesday ~ Saturday 9:00~17:00 (excluding year-end and New Year holidays)