"FDJoint Training Program and Thematic Training" is aimed at newly appointed faculty members, faculty members who want to relearn the basics of FD, faculty members who are interested in FD, and staff working in FD-related departments. This is a small-group training program aimed at acquiring skills and knowledge such as lesson design and lesson practice. In fiscal 2023, a total of five meetings will be held.

The second meeting will be held with the following contents.
We look forward to the participation of many university officials.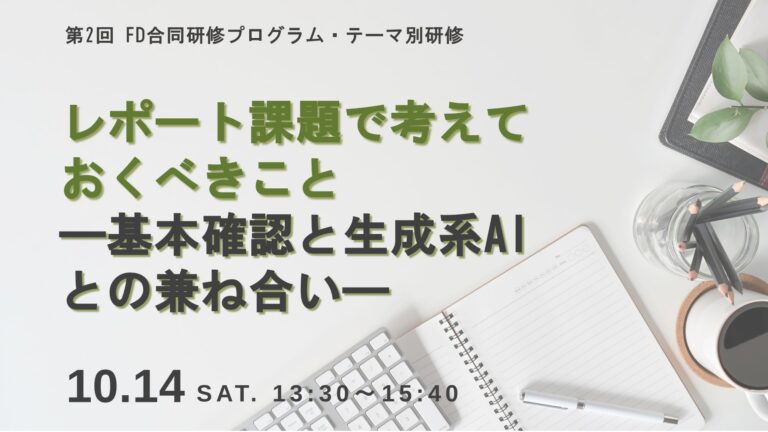 Part 2 : What to think about in the report assignment -Basic confirmation and the balance between generative AI-With
the advent of generative AI such as Chat GPT and Google's Brad, I think that the foundation of presenting students with the task of thinking and writing like a report has been shaken.
In this training, based on the situation in the preamble, I would like to use it as an opportunity to confirm and consider the following.
First, we'll review what you need to think about when presenting a report assignment from an academic writing perspective. After that, we will consider how to deal with generative AI. In the discussion situation, we would like to make it an opportunity to share how to deal with generative AI through the free exchange of opinions.


●

Date:

October 14 (Sat) 13:30~15:40
●

Lecturer

Kenji Shimamura (Supervisor, Ryukoku University Writing Support Center)



●

Noriya Kayagi (Associate Professor, Faculty of Business Administration, Ryukoku University)


       

Yuya Hoshi (Lecturer, Department of Arts and Culture at Ikebo Junior College)
●

Intended for faculty and staff of universities and junior colleges* Not only faculty members, but also staff
        
who are interested in FD are eligible.
●

Format: Online (Zoom Meeting)
●

Participation fee: University Consortium Kyoto member universities and junior college faculty and staff: Free
For those other than the above: 1,000 yen (tax included, advance transfer system)
●

Capacity: about 30 people


If you click "Click here for details",
You can see the details of all the programs scheduled for this year and how to apply.
Inquiries
Consortium of Universities Kyoto in charge of FD business
TEL 075-353-9163 FAX 075-353-9101
〒600-8216 Campus Plaza Kyoto, Shimogyo-ku, Kyoto
※Business Hours: Tue~Sat 9:00~17:00