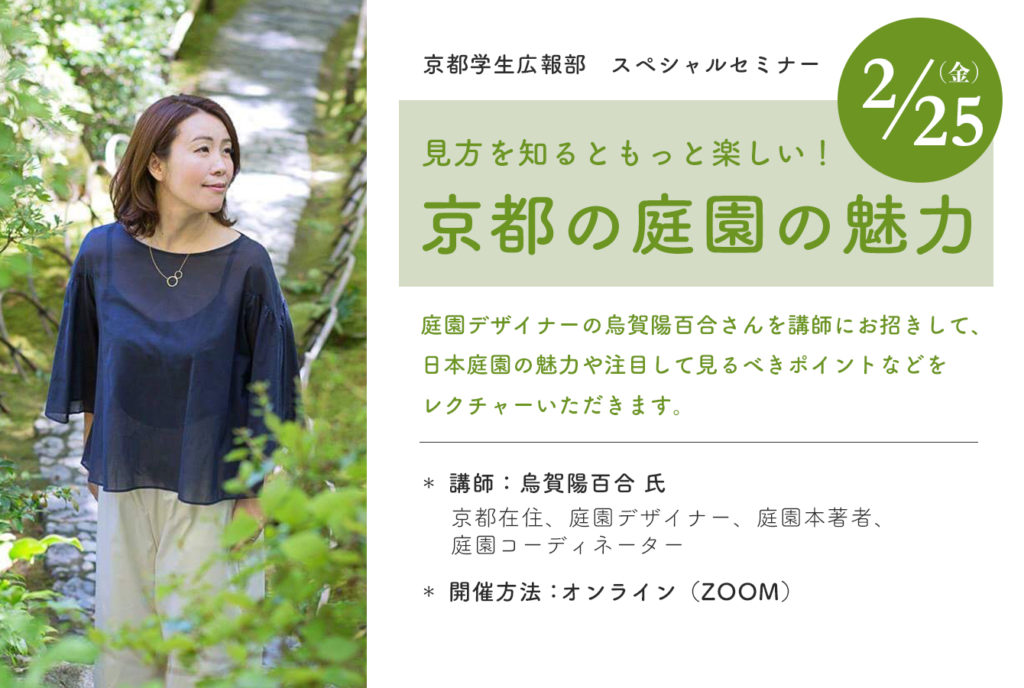 When asked, "What is the charm of Kyoto?", Many people may answer the majestic appearance of shrines and temples and the beauty of the gardens. However, have you ever had trouble expressing what exactly you felt was good?
This time, we will invite garden designer Yuri Ugaya as a lecturer to explain the charm of Japan gardens and points to pay attention to. After the lecture, group work will be held to improve expressiveness!
Why don't you use your spring break time to increase your word drawer too?
The lecturer is garden designer Yori Uruga

Profile Yuri
Ugaya Lives in Kyoto, garden designer, garden book author, garden coordinator. Garden designer and producer. Author of seven books on Japanese gardens. He is the author of seven books, including "Kyoto Scenic Garden I Want to Visit Once" and "Beautiful Moss Garden". Graduated from Doshisha University, Faculty of Letters, Japan Cultural History.
Outline of the event
Date & Time: Friday, February 25, 2022 13:00~15:00 (Reception 12:45~) 【Finished】
Format: Online (Zoom)
Number of participants: 30 (first-come, first-served basis)
Eligibility: Current students attending universities, graduate schools, and junior colleges in Kyoto Prefecture (especially first– and second-year students)
What to bring: Student ID, writing utensils
Participation fee: Free
Details / Application
For details and application, please see the Kyoto Student Public Relations Department website "Kotokare" below.

【We are looking for participants!】 Training: It's more fun to know how to look at it! The charm of Kyoto's gardens
Contact information
University Consortium Kyoto, Kyoto Student Public Relations Department Office
TEL 075-353-9130 FAX 075-353-9101
〒600-8216 Campus Plaza Kyoto
Shiokoji, Shimogyo-ku, Kyoto ※Reception hours: Tuesday ~ Saturday 9:00~17:00 (excluding year-end and New Year holidays)