When looking at web media or SNS, many of you may have been attracted to banners and eye-catching images and clicked on them unintentionally.
This time, we will learn about "design", which is often avoided as difficult at first glance, from photographer and web designer Shina Matsumura.
From basic points such as where to put text to work to create original images, we are planning a program that can be immediately used in activities.

The instructor is photographer and web designer Shina Matsumura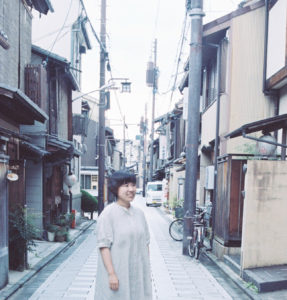 < Profile>
Started working in web design and DTP design in 2007.
Photography of her hobby in the camera magazine "Sha Girl Vol.3" (Look!) I also started working as a photographer after posting it in the girl's room.
So far, he has expanded his activities to Kyoto in earnest after filming the web Seigensha magazine "Kyoto / Base : work & life in Kyoto" of the publisher Seigensha in Kyoto, and the book "Living in Ajiki Alley" published in May 2015.
Currently, he leads the design and camera class "torico.camera", and in addition to magazine serialization, book shooting, paper design, and lectures on "design and photography" at events and universities (guest lecturer at Ikebo Junior College).
Outline of the event
■Date: Tuesday, August 24, 2021, 14:00~16:00【Finished】
■Holding method: Online (Zoom) ■Number of participants: 50 (first-come, first-served basis) ■Eligibility: Current students attending universities, graduate schools, and junior colleges in Kyoto Prefecture (especially first- and second-year students
)


■What to bring: Student ID, writing utensils
Details / Application
■For details and application, please see the Kyoto Student Public Relations Department website "Kotokare" below.
【We are looking for participants!】 Training: How to create an eye catch that attracts readers
Contact information
University Consortium Kyoto, Kyoto Student Public Relations Department Office
TEL 075-353-9130 FAX 075-353-9101
〒600-8216 Campus Plaza Kyoto
Shiokoji, Shimogyo-ku, Kyoto ※Reception hours: Tuesday ~ Saturday 9:00~17:00 (excluding year-end and New Year holidays)