The Kyoto Student Public Relations Department, a collaborative project between the University Consortium Kyoto and Kyoto City,
and Yoshimoto Gion Kagetsu will collaborate to hold a student-planned event called "Kyoto Student Public Relations Department presents Gion Kagetsu University" on Friday, November 22.
The venue, Gion Kagetsu, is set as the university's "classroom" and the audience is set as "high school students", and through stories by performing comedians and corners where comedians experience and practice students' "ima", we will convey the unique charm of "Kyoto City of University and Kyoto City of Students" to young people who love comedy nationwide!
In addition, from mid-November to early December, the lobby of Yoshimoto Gion Kagetsu exhibits paintings on the themes of "Kyoto" and "Comedy" by art clubs of each university, introduces the activities of student organizations that engage in community collaboration activities that contribute to the SDGs, and raises awareness of the SDGs.
If you like comedy or are considering going to a university in Kyoto, please come and visit us!
~Kyoto Student Public Relations Department presents Gion Kagetsu University~Autumn Open Campus~
< Date & Time> November 22, 2019 (Fri) 18:30~ Start (Venue 18:00~)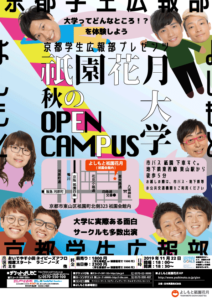 < Fee Money> General: Advance 1,800 yen, Same day 2,300 yen
     Student fee: Advance tickets: 1,500 yen, Same day tickets: 2,000 yen
     To purchase tickets, please see the Yoshimoto Gion Kagetsu website.
     http://www.yoshimoto.co.jp/gion/ticket.php
< Hall> Yoshimoto Gion Kagetsu
     ※323 Gionmachi North Side, Higashiyama-ku, Kyoto City, Kyoto Prefecture
< Director> (Comedian) Miki Navy's Afro, Oideyasu Oda, Shared Start, Runnynose, etc. (Student) Kyoto Student Public Relations Staff,
Student Clubs of Kyoto Universities, etc.

Contact information
Consortium of Universities Kyoto, Kyoto Student Public Relations Department
TEL 075-353-9130 FAX 075-353-9101
〒600-8216 Campus Plaza Kyoto
, Shimogyo-ku, Kyoto *Reception hours: Tuesday ~ Saturday 9:00~17:00 (excluding year-end and New Year holidays)