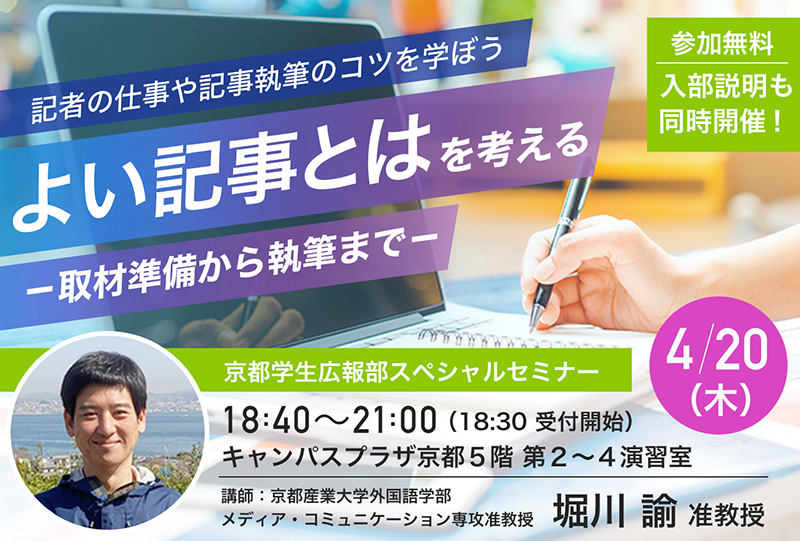 Although some students are interested in the job of a writer, there are probably many who are unsure about what to write or how to prepare for an interview.

Therefore, this time, we invited Associate Professor Satoshi Horikawa, who has experience working in the mass media and is currently teaching media theory and cross-cultural communication theory at Kyoto Sangyo University, as a lecturer. and tips for writing articles.

Not only those who are currently active in the Kyoto Student Public Relations Department, but also those who have just started university life in the spring and are unsure of which student group or club to choose, if you are a student of a university or junior college that is a member of the University Consortium Kyoto, , Anyone can participate, not just recurrent students.

On the day of the event, there will be time to introduce the activities of the members of the Kyoto Student Public Relations Department. Through the training and activities of the Kyoto Student Public Relations Department, why don't you find your own "likes" that you didn't notice before?
We look forward to your participation.
Lecturer: Associate Professor Satoshi Horikawa
<Profile>
Associate Professor, Department of Media and Communication, Faculty of Foreign Studies, Kyoto Sangyo University.
Born in Toyama Prefecture in 1977. He graduated from Waseda University, Faculty of Literature, majoring in German Literature.
After working as a foreign correspondent for Jiji Press, a correspondent in New York, and a correspondent in Berlin, he joined Kyoto Sangyo University in 2018.
His specialty is information security theory. He is a Ph.D.
Overview of the event
Date: April 20, 2023 (Thursday) 18:40-21:00 (Reception starts at 18:30) [Finished]
Venue: Campus Plaza Kyoto 5th floor, 2nd to 4th seminar rooms
Access: https:/ /www.consortium.or.jp/about-cp-kyoto/access
Participation capacity: 60 (first-come-first-served basis)
Participation qualifications: Current students attending a university, graduate school, or junior college in Kyoto Prefecture (especially 1st and 2nd year students) ), Kyoto Student Public Relations Staff (regardless of student)
What to bring: student ID card, writing utensils
Participation fee: free
Details/Application
For details and to apply, please see the Kyoto Student Public Relations Department website "Kotokare" below.
(Application deadline: April 18, 2023 (Tuesday) 17:00)

[For students attending universities and junior colleges in Kyoto] We are looking for participants for a workshop where you can learn tips for interviews and article writing! !
Contact information
Public Interest Incorporated Foundation Consortium of Universities Kyoto Kyoto Student Public Relations Department Secretariat
TEL 075-353-9130 FAX 075-353-9101
Campus Plaza Kyoto, Shimogyo-ku, Kyoto 600-8216
* Reception hours: Tuesday to Saturday 9:00 00-17:00 (excluding year-end and New Year holidays)