2023 "Internship Program Application Guide" has been published!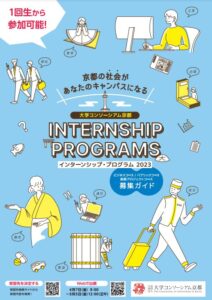 Click the image of the recruitment guide to view and download it as PDF data.
It is distributed at each university career center and Campus Plaza Kyoto, so please take a look!
Contents
・About
the internship program ・Features of the two courses (1) Business Course / Public Course (2) Long-term Project Course
・List of training sites with a wide variety ・ Experiences of seniors who participated in the program "Roundtable discussion of
graduates"
・ Program participation application flow
Of particular note is the "Roundtable Discussion for Alumni Students."
The four alumni who talked in a dialogue format talked in detail about the reasons for participating in the internship and what they noticed during the practical training.
It is sure to be very helpful for students who are hesitant to participate in the internship.
Please read on!
Click here for video messages ▶
If you have any questions or consultations about the program, please feel free to contact the Internship Business Promotion Office.
Contact information
University Consortium Kyoto Internship Program Promotion Office
MAIL intern@consortium.or.jp
TEL 075-353-9106 FAX 075-353-9101
〒600-8216 Campus Plaza Kyoto
, Shimogyo-ku, Kyoto *Reception hours: Tue~Sat 9:00~17:0 0 (excluding year-end and New Year holidays)