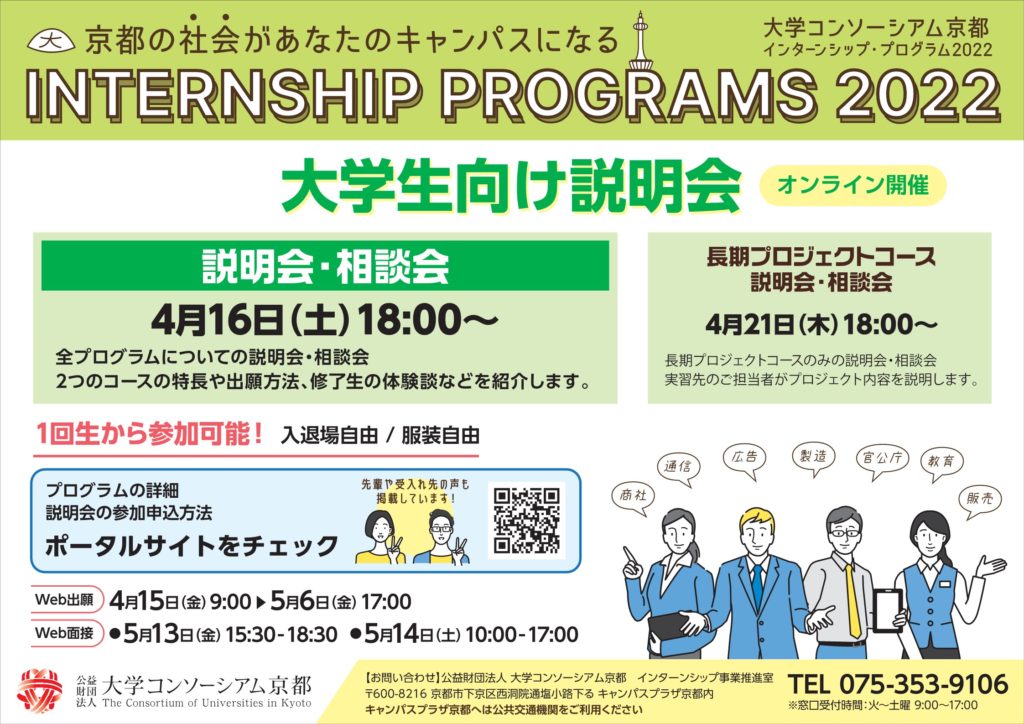 We will hold a pre-internship program briefing session!
It will be held online, so please feel free to participate from your home.
We will also hold consultation sessions to clear up simple questions and anxieties about practical training.
---
Click here for an overview and application for the "General Briefing Session and Consultation Session (for ▶ all courses)" held on Saturday, April 16
4/21 (Thu) Click here
for applications for ▶ the "Long-term Project Course Briefing Session and Consultation Session" * You can talk directly with the person in charge of the long-term project course training destination!
* The time schedule for consultation meetings for each project has been decided!
---
More information about the internship program can be found on the portal site.
We also introduce the voices of seniors and host companies, so please take a look!
Internship | Consortium of Universities Kyoto | Portal (consortiumkyoto-internship.jp)
If you have any questions about the program, please feel free to contact the Internship Business Promotion Office.
Contact us
University Consortium Kyoto Internship Program Promotion Office
TEL 075-353-9106 FAX 075-353-9101
〒600-8216 Campus Plaza Kyoto
, Shimogyo-ku, Kyoto *Reception hours: Tuesday ~ Saturday 9:00~17:00 (excluding year-end and New Year holidays)