Study Abroad Invitation Brochure Exclusively for Universities Consortium Kyoto Member Universities

This time, we have created an English pamphlet "Study in Kyoto" for the purpose of attracting international students to study in Kyoto . Please use it for promotion.
Foreign students who want to study in Kyoto but don't know much about Kyoto can read it and find useful information for studying in Kyoto from various aspects.
* If it is necessary for the promotion of attracting foreign students to Kyoto, please contact the person in charge below and we can send some copies.
*You can also send it to your university's partner university.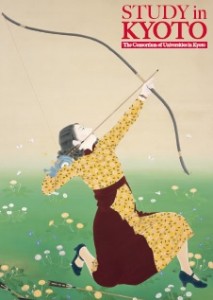 ---
"Study in Kyoto" Contents (The Consortium of Universities in Kyoto)
*Versatile City, Kyoto
Historical, Cultural City, International Academic City, Advanced City, Accessible City, Beautiful City, City of Yourth
*Why Study in Kyoto?
Study & Life
*Student Talk Session!
10 International students from 5 different universities shared their student experience in Kyoto.
Theme: Student Experience in Kyoto
*Kyoto Universities Location Map
*Kyoto Universities and Colleges
*More Useful Information!

---
Study Abroad Promotion Pamphlet "Study in Kyoto" [ Click here for details ]
---

Public Interest Incorporated Foundation Consortium of Universities Kyoto Educational Development Division International Collaboration Project
Phone: 075-353-9163 Fax: 075-353-9101