The Kyoto Student Festival has been held every October since 2003 in the Heian Jingu and Okazaki Promenade areas, and is a major event that attracts more than 100,000 visitors. It is a student-produced festival that can only be done by university students studying in Kyoto, a student town.
 After the 18th Kyoto Student Festival was held online for the first time in history, the 19th Kyoto Student Festival was the first hybrid event to combine online and offline. Under the theme of "Kyoto Culture," we were able to experience the traditions and culture rooted in the region, create the Kyoto Student Festival with the local people and all the people who had a connection, and ended the festival with great success.
 On November 25, 2021, the 20th Kyoto Student Festival Executive Committee was established and started its activities. The Kyoto Student Festival, which is also the milestone year of the 20th edition, will pursue a form of festival that can only be made possible by Kyoto as a city of students, and we would like to enliven Kyoto.
The 20th Kyoto Student Festival Theme

About the theme
Feeling grateful to have been able to build the long history of the Kyoto Student Festival, he expresses his feelings in a new way. This does not mean a simple regression, but an event that took place in the past and a past Kyoto flame touch! We aim to challenge new things based on the past, such as performances, projects with OBOG, and companies that have sponsored and cooperated.
 I would like to express my gratitude for the fact that the student organization Kyoto Student Festival has continued until the 20th edition. The gratitude we feel "blooms" as a large flower, and we "shout" so that the feeling of gratitude reaches many people.
The 20th Kyoto Student Festival
Main
 We are looking for main visuals for the 20th Kyoto Student Festival from December to late March. As a result of the selection, it was decided to be the work of Mr. Takano, a third-year student at Aichi Prefectural University of the Arts.
 The 20th anniversary year will be livened up through this main visual with the theme of "On, bloom!"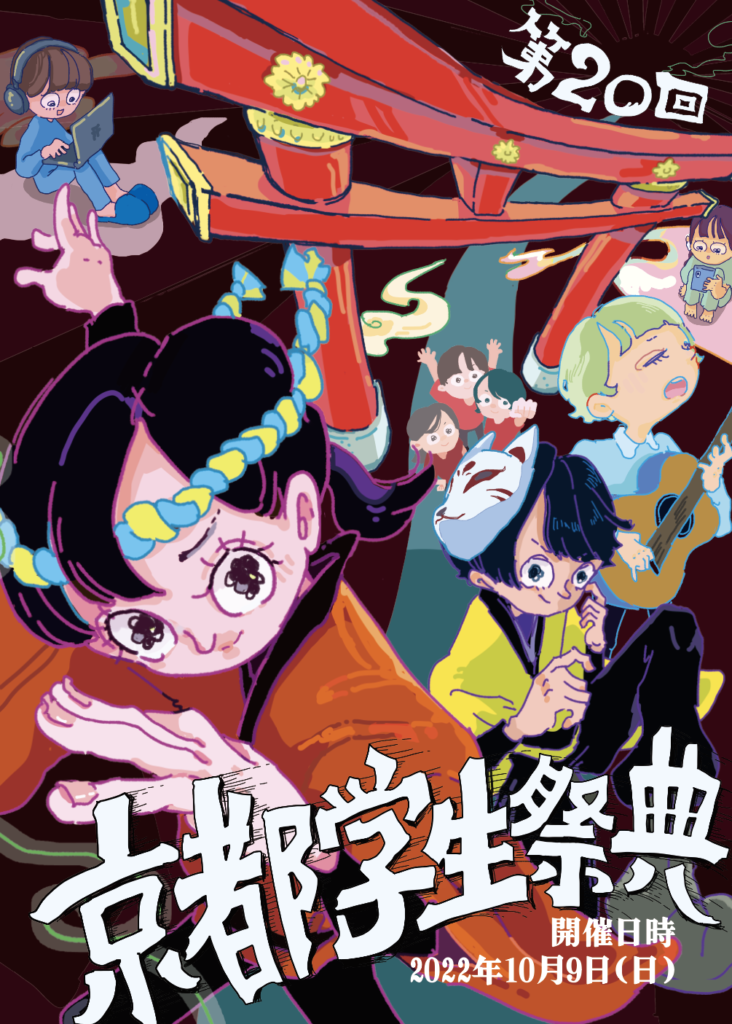 If you would like to know more about the Kyoto Student Festival, please check the official website of the Kyoto Student Festival and the official SNS for information updated from time to time.
Contact us
Kyoto Student Festival Executive Committee
〒600-8216 Kyoto City Shimogyo-ku Nishinotoin-dori Shiokoji Sagaru Campus Plaza Kyoto (closed on Mondays)
TEL:075-353-9432 FAX:075-353-9431
E-mail:festa@consortium.or.jp
Kyoto Student Festival Official Website: http://www.kyoto-gakuseisaiten.com/