2016 Main Visual Announcement of Application Results
The "main visual," which will serve as the unifying image of the 14th Kyoto Student Festival, was submitted to students for the second time in the previous year, and 46 works were submitted. As a result of the careful judging, the main visual for this year has been decided, and we will announce it. In the future, we will use it in posters and pamphlets that will serve as PR for the Kyoto Student Festival.
Thank you to everyone who applied.
Main Visual Award (design adopted in 2016)
Akane
Watanabe ―Kyoto Seika University 3rd year―
■Judges' Comments
It is a bit stiff, but it is a high-quality design that shows that it was carefully made over time.

■Executive Committee Chairperson's Comment
I felt that this work was a powerful representation of the students who were perfect for this year's theme, "Students' Challenge to the Four Major Festivals in Kyoto." I would like to create a shining image of this kind of student festival as a student festival.


■Media in which the design will be used (planned)
* It will be installed mainly in schools, shops, and public facilities in Kyoto City.
Poster (3,500 A2 posters, 11,000 copies for B3 Kyoto City PR edition)
Flyer (A4 size 125,000 copies, A6 size 45,000 copies)
Official Mini Fan (40,000 copies)
T-shirts worn by executive committee members, short-term volunteer staff, etc.
■Supplementary prize
: 100,000 yen ■Award Ceremony Saturday, May 21,

2016 13:00@Fushimi Otesuji Shopping Street

* Announced

at the opening ceremony of the Kyoto Student Festival Pre-Event in Fushiminai
Special Prize
This time, it was not selected as the main visual, but we would like to introduce the works that were particularly excellent as the Special Jury Prize.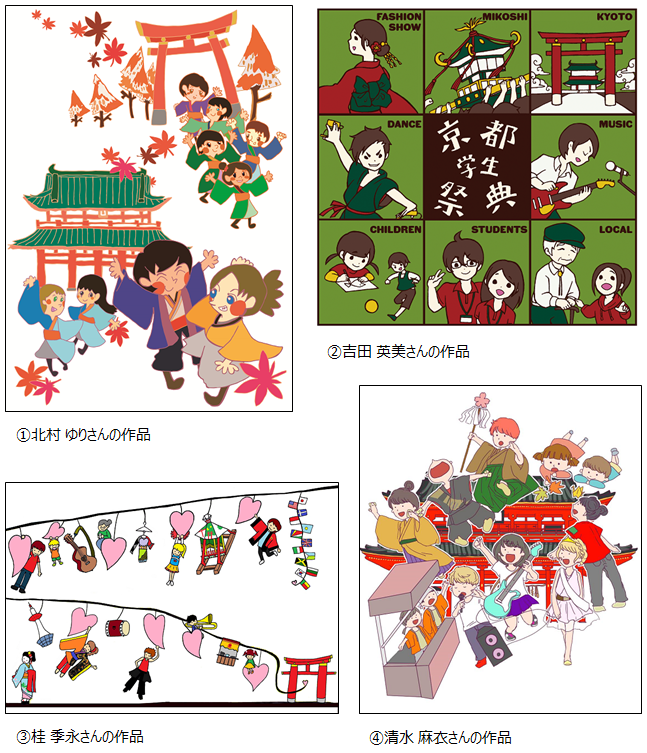 (1) Kyoto Mayor's Award, Kyoto Association of Corporate Executives Award, Kyoto Chamber of Commerce and Industry Award

Yuri Kitamura
―Kyoto University of Art and Design, 3rd year―
■Judges' Comments
It is a bit similar to last year's main visual, but it has a good design that has movement and conveys the fun of the student festival.


(2) Kyoto Prefectural Governor's Award

Hidemi Yoshida
―Kyoto City University of Arts, 3rd year―
■Judges' Comments
It's a little disappointing that you can't expand the image as a design because it contains letters, but it contains many elements of a student festival and is an easy-to-use design.


(3) Kenji Tsuruta Jury Award

Katsura Kinaga
― Ryukoku University 4th year―
■Judges' Comments
It is a design that is loose in a good way and expands the image when you look at it.


(4) Kyoto Prize of the Consortium of Universities

Mai Shimizu
―Kyoto University 3rd year―
■Judges' Comments
It may be difficult to use because there is no movement, but it follows the application guidelines and is designed like a student festival.
The 14th Kyoto Student Festival Main Visual Recruitment Overview
Application Overview
| | |
| --- | --- |
| Application Period | 2016.2.1-2016.3.31 |
| Number of works accepted | 46 (32 last year) |
| Admissions | |
Introduction of judges and commentators (*honorific titles omitted)
■Judge
Kenji Tsuruta 〈Former Professor Emeritus of Kyoto City University of Arts, Director of Kyoto City University of Arts Gallery@KCUA〉

■Reviewer
Keiji Yamada 〈 Governor
of Kyoto Prefecture Daisaku Kadokawa 〈Mayor of Kyoto〉 Toshiyuki Masuda 〈Kyoto Association of Corporate Executives, Representative Secretary〉 Yasuo Kashiwabara 〈Vice President, Kyoto Chamber of Commerce and Industry〉


Yoshihiko Katsura 〈Public Interest Incorporated Foundation Secretary-General, University Consortium Kyoto〉
Reference: Last year's main visual recruitment results
In fiscal 2015, we tried to call for main visuals for the first time, and received many applications from students from all over Japan.


Activities
If you want to know more about the Kyoto Student Festival, check out this site!
Contact us
Kyoto Student Festival Executive Committee 〒600-8216 Kyoto City Shimogyo-ku Nishinotoin-dori Shiokoji Sagaru Campus Plaza Kyoto (closed on Mondays) TEL:075-353-9432 FAX:075-353-9431
E-mail:saiten14th-ml■consortium.or.jp (Please change ■ to @ and send)


Kyoto Student Festival Official Website: http://www.kyoto-gakuseisaiten.com/