Overview of the business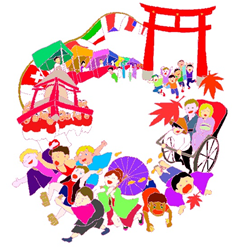 Students in Kyoto, who transcend the boundaries of universities, form an executive committee and engage in daily activities with the aim of disseminating "Kyoto as a city of students" to society in cooperation with the business community, government, local communities, and universities, further revitalizing the Kyoto area, and creating new attractions.
After various community exchange activities throughout the year, such as the promotion of the original creative odori "Kyoen Sodefure!" and sprinkling activities, the grand main festival is held every October as the culmination of these activities.
The University Consortium Kyoto has set the goal of "student growth" in the daily activities of the Student Executive Committee, and provides support aimed at "student independence" in which students themselves can think and act on their own, and supports them so that they can maximize what they have accumulated in the course of their activities since the establishment of the Executive Committee at this festival in October.
Outline of the event

As a culmination of various exchange activities throughout the year, visitors will be attracted by various genres such as dance, food, music, and sports under the themes of "Kyoto" and "International". In addition, from this year, Okazaki Park will be redeveloped and a main stage with Ōtenmon in the background will be set up on the newly reborn Jingu Road, and students will plan various performances. Centered on a powerful stage that overlooks the entire venue, all kinds of productions create a sense of unity for the entire venue.
♪ Trailer movie is being ♪ distributed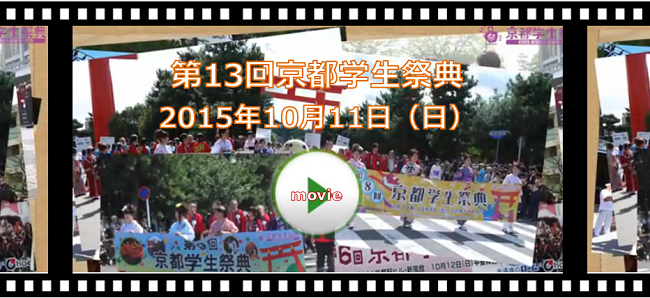 Contents of the project
---

Kyo Flame Sodefure! Guinness World Record ™ ★
Recruitment of individual supporters

Activities
If you want to know more about the Kyoto Student Festival, check out this site!
Contact us
Kyoto Student Festival Executive Committee 〒600-8216 Kyoto City Shimogyo-ku Nishinotoin-dori Shiokoji Sagaru Campus Plaza Kyoto (closed on Mondays) TEL:075-353-9432 FAX:075-353-9431
E-mail:saiten13th-ml■consortium.or.jp (Please change ■ to @ and send)


Kyoto Student Festival Official Website: http://www.kyoto-gakuseisaiten.com/