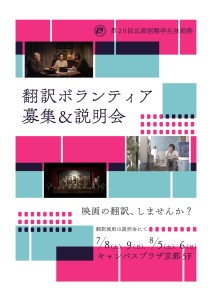 The Kyoto International Student Film Festival, now in its 20th year, is looking for volunteer translators to translate Japanese and international student films (Japanese or English) to be screened at the festival.
The translated content will be displayed as subtitles at the screening of the film at the 20th Kyoto International Student Film Festival to be held in late November 2017.
<What is the Kyoto International Student Film Festival?
> This film festival is the largest international student film festival in the Japan, which is planned and managed mainly by university students from the Kansai region, mainly in Kyoto. We aim to discover future filmmakers by collecting, judging, and screening independent films produced by students from all over the world.
Click here
for details
Admissions
<Target>
●University
students, graduate students, vocational school students, and working adults who like movies and are interested in translation work ●Those
who can work from home or contact the festival executive committee members from August to September ● Those who can participate in one briefing session (see below) (not limited to those who have experience translating subtitles) ● Fluent in foreign languages (TOEIC score of 750 or higher or Eiken Pre-1 or higher is preferred)

☆ Those who cooperate will be given an invitation ticket during the film festival as a reward.
* Depending on the number of applicants, we may not be able to ask all applicants to translate subtitles.
In addition, we may ask you to translate something other than subtitles.

< briefing session>
Would you like to
Saturday, July 8, Sunday, July 9, Saturday, August 5, and Sunday, August 6, 2017
Time
Both dates are from 2pm ~ 4pm
Place
Campus Plaza Kyoto 5F Joint Laboratory 2
Contents
Lecture on the rules for translating subtitles (character limit, etc.)

How to apply
Please write your name, school name (not required for working adults), telephone number, and information session schedule for participation in the following address as
"Translation Volunteer Application" and send it.
The person in charge will contact you shortly.
< destination>info■kisfvf.com (Please change ■ to @ and send)

<Inquiries regarding this matter>
〒600-8216 Campus Plaza Kyoto
, Shimogyo-ku, Kyoto 20th Kyoto International Student Film Festival Executive Committee Translation Volunteer Receptionist
TEL: 075-353-9430 (Closed on Mondays) *If you are absent, please contact us by email.
Address: info■kisfvf.com (Please change ■ to @ and send)
Kyoto International Student Film Festival Executive Committee Official Website