Event Report
The Kyoto International Student Film Festival, which discovers young talent who will lead the film industry of the future, was held at Kyoto Cinema from Saturday, November 26 and concluded on Friday, December 2.
The 19th Film Festival Competition (Live-Action and Animation Divisions) received 539 entries from 43 countries and regions, the highest in the history of the festival, and 16 films carefully selected by the Student Executive Committee were screened at the festival.
At the award ceremony on Friday 2nd, the winning directors and the final judges, Yasumi Sakamoto, Nobuaki Doi, and Kunihiko Tomioka were invited as guests to announce the Grand Prix, Final Jury Prize, and Audience Award in the Live Action and Animation Categories.
The award-winning works are as follows: I hope that this film festival will be an opportunity for young directors to play an even more active role in the future.
We would like to express our gratitude and gratitude once again for the successful completion of all the programs of the film festival, as well as those who came to the festival and those who supported and cooperated with us.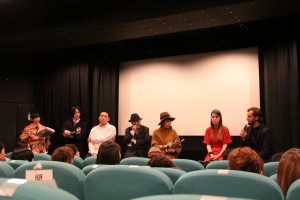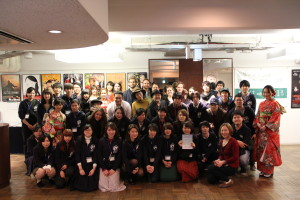 Outline of the event

Would you like to
■Program Screening2016/11/26(Sat)~12/1(Thu)16:45~21:20(*26th~21:30)■Award Ceremony/Grand Prix Screening
/Talk Show
December 2, 2016 (Fri)

18:00~21:00

Venue
Kyoto Cinema (COCON Karasuma 3F)
Hosted
Consortium of Universities Kyoto
Planning and Operation
19th Kyoto International Student Film Festival Executive Committee
Operational support
Kyoto International Student Film Festival Planning Committee

Programs held 
Results of Submission
We received 539 entries from 43 countries and regions. Thank you very much for your submissions.
19th Kyoto International Studies Film Festival Competition Entry guidelines are here.
| | | | |
| --- | --- | --- | --- |
| | Domestic | Overseas | Meter |
| FY2016 | 167 | 372 | 539 |
| FY2015 | 123 | 94 | 217 |
| FY2014 | 163 | 187. | 350 |
| FY2013 | 212 | 145 | 357 |
| FY2012 | 235 | 127 | 362 |
Competition Section Results


Grand-Prix for Live-action Film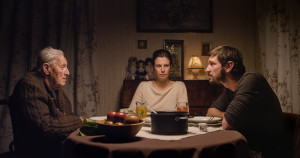 Darling, 
directed by Sebastian Schmidl
School: Filmacademy Vienna
2015/42min/Austria

Tamara's decision to divorce is changing the lives of those around her. Hans has to give up the house, and Tamara's beloved father-in-law also has to move into a nursing home. Away from the outside world, they spend their last weekend together covered in sentimentality.




Grand-Prix for Animated Film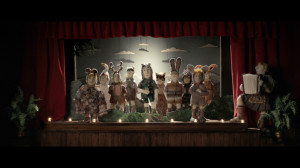 EDMOND 
Director: Nina Gantz
School : National Film and Television School
2015/9min/UK


Edmund's desire to love others is probably too strong. He stands alone by the lake and reminisces about his life up to that point. He evokes intense memories and searches for the origin of his desires.


Final

Jury Prize
Yasumi Sakamoto Award The Final Judge, Abi Sakamoto Award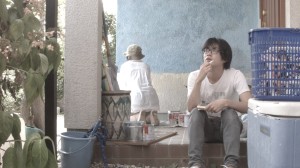 "Toori Rain" 
Director: Masami Inada
School: Osaka University of Arts
2015/61min/Japan


A young man who aspires to become a manga artist meets a housewife who is drawing pictures on the walls of his house. The young man began to go to see the painting every day, but she intended to erase it when it was finished. A story of just the two of them, drawn with long turns and improvisational direction.






The Final Judge, Nobuaki Doi Award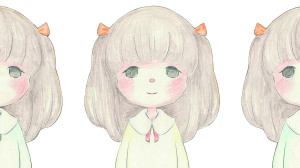 "I have a future" 
Director: Rieko Ouchi
School : Hokkaido University of Education Graduate School
2016/15min/Japan


A daily anime that depicts the life of "me". This work is just a jumble of elements. I myself am just a collection of elements.


Final

Jury Prize
Kunihiko Tomioka Award The Final Judge, Kunihiko Tomioka Award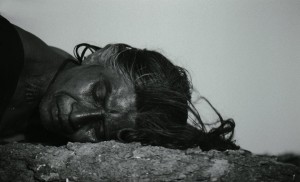 Film
and Television Institute of India, Pune
2015/15min/India


An 80-year-old woman is digging a well with a horse. When she starts hallucinating from thirst, a girl appears. Eventually, water gushes out from a well dug deep, greenery sprouts in the desert, and the horse's throat is watered.





Audience Award
The Grand Prix "Darling" in the live-action category also won the Audience Award!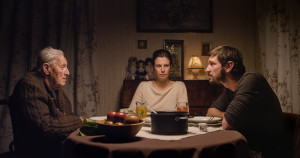 Darling 
Director: Sebastian Schmidl
School: Filmacademy Vienna
2015/42min/Austria


*The Audience Award will be selected from a questionnaire from customers who viewed the works during the festival.




・Other Selected Works
category
Name of the work
Director
Name of University
Year of production, length, country
Live
『America』
Aleksandra Terpińska
University of Silesia – Krzysztof Kieslowski Faculty of Radio and Television
2015/30min
/Poland
『Under the Sun』
QIU Yang
Victorian College of the Arts, School of Film and Television
2015/19min
/Australia
『The guilt, probably』
Michael Labarca
The School of Audio-Visual Media, University of Los Andes
2016/14min
/Venezuela
"Tiger Hole ni Irazumba"
Sadato Takenaka
Osaka University of Arts
2016/65min
/Japan
『Sweeper's Pride』
Matthias Koßmehl
Hamburg Media School
2015/7min
/Germany
『The Road』
Tsevelmaa Densmaa
Mongolian State University of Arts & Culture
2016/13min
/Mongolia
animation
"Heel of Love"
Maruka
Tokyo University of the Arts Graduate School
2016/10min
/Japan
『The Noise of Licking』
Nadja Andrasev
Moholy-Nagy University of Art and Design
2016/9min
/Hungary
『FEED』
Eri Okazaki
Tama Art University
2016/7min
/Japan
『Pokey Pokey』
Junjie "Jake" Zhang
University of Southern California
2015/6min
/USA
"To the Stories"
Mio Yamanaka
Tokyo University of the Arts Graduate School
2016/6min
/Japan




☆☆The 19th Kyoto International Student Film Festival Click here for detailed information☆☆ ☆☆Click here for the Kyoto International Student Film Festival official website☆☆☆☆☓You can also see the activities from here☆



☆



Facebook twitter

Official Blog



Contact Us
The 19th Kyoto International Student Film Festival Executive Committee
〒600-8216 Campus Plaza Kyoto 6F, Shiokoji-sagaru, Nishinotoin-dori, Shimogyo-ku,
Kyoto TEL:075-353-9430 FAX:075-353-9101
MAIL:info■kisfvf.com (Please convert ■ to @ and send)
twitter:@kisfvf
Web: http://www.kisfvf.com