~ Would you like to learn about movie subtitles? ~


The Kyoto International Student Film Festival Executive Committee will hold a subtitling workshop on May 27 (Friday), inviting an expert in film translation as a lecturer, with the aim of letting people know the appeal of movies through subtitling. To do!



Kyoto International Student Film Festival Subtitle Translation Workshop @Kyoto University of Foreign Studies
☆☆Recommended for these people! ☆☆
   I like movies , I want to make the most of my language skills , and I want to do something fun with everyone!
We also support those who are not confident in their language skills.
In addition, on the day of the event, we will also introduce the activities of the executive committee and explain the recruiting of new members.



♣

Click here for the film to be used as the subject of the workshop↓↓ ♣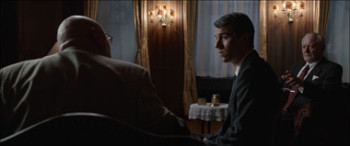 "Berlin Troika" Director: Andrej Gontcharov (2014/Germany/10min)  
 ◇17th Kyoto International Student Film Festival Short Film Category
◇38th Montreal World Film Festival Student Category Best work award


date and time

May 27, 2016 (Gold) 18:30~20:00


venue

Kyoto University of Foreign Studies Building No. 8, 7th floor R.873 (the building just inside the main gate)
 <Access>

http://www.kufs.ac.jp/access/index.html




lecturer

Professor Yoshihiro Kondo (Kyoto University of Foreign Studies Part-time Lecturer, ATEM English Language Teaching Society)


Contents

①Learn how to translate subtitles based on selected films from film festivals!


②Let's practice translating subtitles using selected films from film festivals!




③Let's get to know the Kyoto International Student Film Festival Student Executive Committee!




participation fee

free



★★How to apply★★
Please email info@kisfvf.com
with your name, school name, and phone number with the title "Subtitling Workshop Participation Request" .
(If possible, by noon on May 27th)
Of course, you are also welcome to jump in on the day!

[Contact/Planning/Management]
Kyoto International Student Film Festival Executive Committee
Mail: info@kisfvf.com