The Kyoto High School Teachers' Exchange Meeting is a place where people can share ideas and concerns about school and homeroom management, class improvement, etc., and interact with each other to solve them, regardless of the school or the person who established it.

The 7th meeting will be held as follows.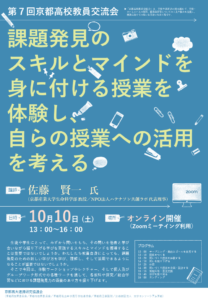 I think it is important for students to acquire the skills and mindset to ask their own questions and practice learning to delve into them while learning from others. I think it is important for us teachers ourselves to be able to learn, understand, and utilize new learning methods to identify issues.
This time, through hands-on workshops, lectures, and various works in the form of individual and group work, we will delve into how to cultivate problem-finding skills in each subject and inquiry/integrated learning.
 We look forward to your active participation.
※The 7th Kyoto High School Teachers' Exchange Meeting Flyer【Download】
On
Saturday, October 10, 2020 13:00~16:00 (Reception 12:45~)
Place
Online (Zoom Meeting)
Theme
"Experience a class to acquire problem-finding skills and mindset and think about how to use it in your own classes"
Coordinator
Kenichi Sato (Professor, Faculty of Life Sciences, Kyoto Sangyo University / Representative Director of NPO Hatenathon Co-Creation Lab)
Configuration

13:00 Opening, sharing
objectives and goals 13:10 Building
relationships 13:20 Experience
question-making class 14:10 Delving into
questions 14:25 Break
14:35 Planning and designing
question-making classes 15:15 Q&A and exchange
of opinions 15:45 Reflection
on learning 16:00 ending

* Some contents are subject to change depending on the number of applicants.
Attendance fee
Free
Target
High school teachers
*

People from outside Kyoto Prefecture can also participate.


* We will have a breakout session (group work), so those who
can participate with video and audio turned on * Those who can participate in a quiet environment where they can speak
Quorum
First 50 people
How to apply
 Please fill in the necessary items (including pre-assignments) from the method (1) or (2) below and apply.
* Pre-assignments will be distributed to applicants in advance and used for group work on the day.
* Applicants will be notified of their Zoom meeting ID and password around 11:00 on the day of the meeting.
(1) WEB application
 Please use the application form at the following URL.
 https://forms.gle/H6fCEyHhCajUgRM99
(2) E-mail/fax application
 Please download the following application form (1st page: application form, 2nd page: pre-assignment) and send it to the Kyoto Office of the University Consortium by e-mail or fax.
 ◆The 7th Kyoto High School Teacher Exchange Meeting Application Form【Download】
FAX: 075-353-9101 E-mail:
kodai■consortium.or.jp (Please change ■ to @ and send it)
Deadline for application
Thursday, October 1, 2020
Contact information
University Consortium Kyoto, Education Development Division, High
School-University Collaboration Project Tel: 075-353-9153 FAX: 075-353-9101
〒600-8216 Campus Plaza Kyoto
, Shimogyo-ku, Kyoto *Reception hours: Tuesday ~ Saturday 9:00~17:00 (excluding year-end and New Year holidays)