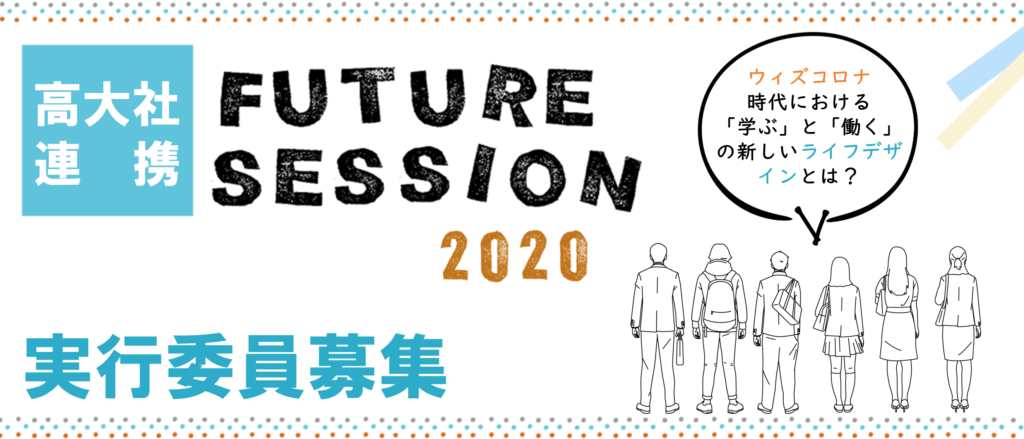 In order to hold the 2020 High School-University Collaboration Future Session, we are looking for "executive committee members" who will take the initiative in planning and considering the theme and program structure of the day, assisting with the operation of the day, and reporting the results of the event after the event (scheduled for early December)!
Admissions
We are looking for an executive committee member who will be responsible for the following contents.
◆ Recruitment flyer [Download]
◆Click here for recruitment video
1. Contents
・ Proposal
of event planning in accordance with the following themes and objectives ・ Consideration
of specific theme of the day, program structure, guests, etc. ・ Assistance in creating flyers and public relations activities ・ Assistance

with implementation and operation on the day ・ Report on the results of the implementation after the event (scheduled for December)
 * From July ~ September, the executive committee will hold regular (about several times a month) on Zoom to conduct considerations.
Theme
What is the new life design of "learning" and "working" in the era of With Corona?
Purpose

In 2020, as a measure to prevent the spread of the new coronavirus infection, schools were closed and online classes were introduced in the field of education, and companies were also required to change their lifestyles, such as the introduction of telework. In this society with an uncertain future due to the corona disaster, how will education and society change in the future, and how can high school and university students design new ways of "learning" and "working" in response to these changes?
Amid the various possibilities, we would like to create an opportunity for high school and university students, who will lead the next generation, to think for themselves with flexible ideas with an eye on the future through exchanges that transcend generations and schools, and to build a new life design of "learning" and "working" for the future.

On
Sunday, November 15, 2020 PM
Place
Online (using Zoom meetings)
coordinator
Terumi Samejima (Associate Professor, Faculty of Health Sciences, Kyoto Koka Women's University) Hideki Sugioka (Associate Professor, Faculty of Regional Management, Fukuchiyama Public University)

Organizer
Kyoto High School Collaborative Research Council (Kyoto Prefectural Board of Education/Kyoto City Board of Education/Kyoto Prefectural Federation of Private Junior and Senior High Schools/Kyoto Chamber of Commerce and Industry/University Consortium Kyoto)
2. Eligibility
University and high school students attending universities and high schools in Kyoto Prefecture who can participate in the event and the executive committee
3. Capacity
About 10 people
*It is on a first-come, first-served basis.
* In some cases, it may be selected by lottery. Please note.
4. Application Deadline
Until Friday, July 10, 2020
5. How to apply
Please fill in the following information and apply by e-mail.
(1) Name (furigana) (2) School (3) Grade (4) Telephone number (5) E-mail address
【Name】"Application for High School and University Collaboration Future Session Executive Committee"
【Email】kodai■consortium.or.jp (Please change ■ to @ and send it)
6. Others
・After the application deadline, a project briefing session will be held (details will be announced after application is received).
What is a Future Session?
"Future Sessions" are places where people with diverse values discuss and deepen exchanges on an equal footing with a future-oriented perspective in order to create new value. Through interaction between people with different values and positions, we aim to create new wisdom and discover the buds of new businesses.
What is the High School University Collaboration Future Session?
The "High School-University Collaboration Future Session" is a career education project that transcends generations such as high school students, university students, working adults, and schools to interact.
For details of the project, please refer to previous years.
Click here for FY2018 Click here
for FY2019
Contact information
University Consortium Kyoto, High School-University Collaboration
Project TEL 075-353-9153 FAX 075-353-9101
〒600-8216 Campus Plaza Kyoto, Shimogyo-ku, Kyoto
*Reception hours: Tuesday ~ Saturday 9:00~17:00 (excluding year-end and New Year holidays)