Recruitment of 2023 SD Seminar Students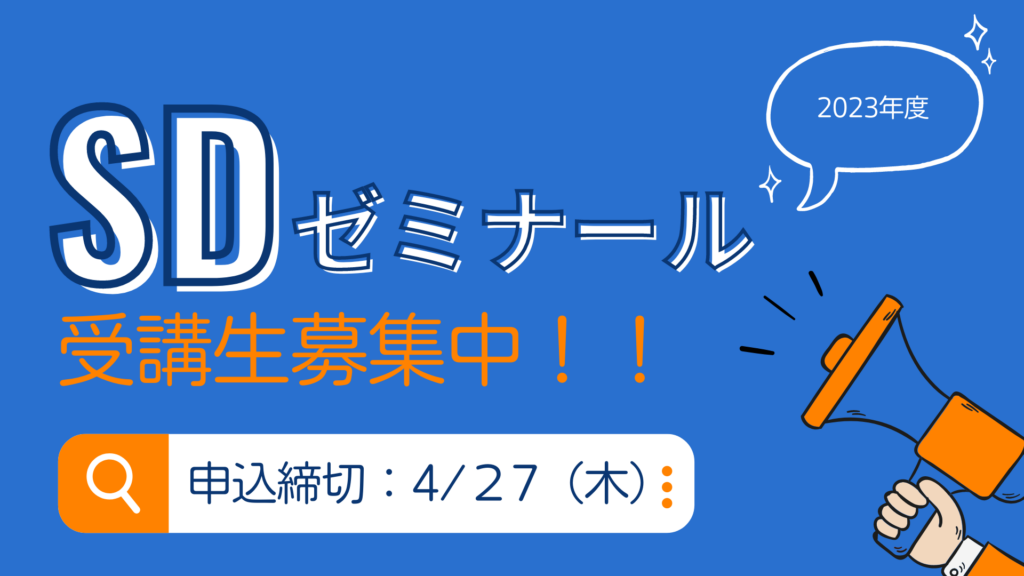 The SD Seminar is mainly targeted at young and mid-career employees, and aims to develop human resources who will lead the next generation of each university.
It consists of a series of nine training programs, and provides a curriculum that allows university staff to systematically acquire the knowledge necessary for university staff, such as public presentations and writing policy proposal reports as a place to present results.
In addition, we provide various follow-up opportunities such as follow-up training after completing the SD seminar.
We are looking forward to receiving applications from staff who are aiming to step up.
Outline of the event
【Venue】Campus Plaza Kyoto
【Capacity】16 people (Document screening will be conducted based on the application form)
【Target】 As of the start date of the SD seminar, in principle, those who have at least 3 years of work experience as a university staff member
【Participation fee】University Consortium Kyoto member universities and junior colleges: 20,000 yen For those other than the above: 60,000 yen

【Application deadline】Until Thursday, April 27, 2023
Training Program
Saturday, May 27
13:00-14:30

Orientation
・About taking SD Seminar (Administrative Communication) ・Attitude toward taking SD Seminar (Message from graduates)


1st 14
:50~16:50

Fundamentals
of Academic Writing – How to convert "problem awareness" into concrete "questions"? -

Lecturer: Takashi Sakamoto (Associate Professor, Department of General Education, Kyoto Pharmaceutical University)

2nd session
: Saturday, June 3
13:50-17:00

The History and Institutions of Universities: Understanding the History and Institutions of Higher Education to Create the Future

Lecturer: Tsunetaka
Miyabayashi (Director, Tokyo Metropolitan Institute of Advanced Industrial Technology)

3rd session
: Saturday, June
10 13:50-17:00

University Strategy and Leadership: Creating an Organization to Create Strategy

Lecturer: Hiromichi
Yoshitake (Auditor, Research Organization of Information and Systems / President, Tokyo Kasei Gakuin / Professor Emeritus, University of Tsukuba)

4th Saturday
, June
17 13:50-17:00

Academic Literacy and Policy Advocacy Report
: Understanding Academic Literacy and Initiating Research

Lecturer: Takamichi Murayama (Director, Kyoto Bunkyo Junior and Senior High School)

5th June
24 (Sat)
13:50-17:00

Educational Management for Quality Assurance of University Education: Discussion and Advice for Promoting Educational Management
at Your School

Lecturer: Takero
Nishino (Kyoto Tachibana University Educational Development and Learning Support Office / Faculty of Business Administration Department of Business Administration Full-time Lecturer)

6th July
1 (Sat)
13:50-17:00

Universities and Society: The Meaning of Regional Cooperation and the Role of Universities

Lecturer: Masamine Fukao (Professor, Faculty of Policy Studies, Ryukoku University)

7th July
8 (Sat)
13:50-17:00

Collaboration between Universities and High Schools and Universities: Considering "High School-University Connection Reform" from the Perspective of High School Education

Lecturer: Katsumi Arase (President, Japan Teachers' Support Organization)

8th July
15 (Sat)
13:50-17:00

Universities and Higher Education Policy: Looking at Universities from the Perspective of Higher Education Policy

Lecturer: Hiroshi Matsuzaka (Director, Japan Sports Promotion Center)

9th July
22 (Sat)
13:50-17:00

Branding and Student Recruitment: How to Proceed with University Branding

Lecturer: Kenji Kamijo (Professor, Department of Regional Business, Faculty of Business Administration, Aichi Toho University)

Saturday, September 9
13:00-18:00

Public Presentations

Saturday, September 16
13:50-17:00

Public presentation follow-up training

Lecturer: Yasunari Shirafuji (IR Promotion Office, President's Office, Kyoto Sangyo University)
How to apply for SD seminars, program contents, etc.