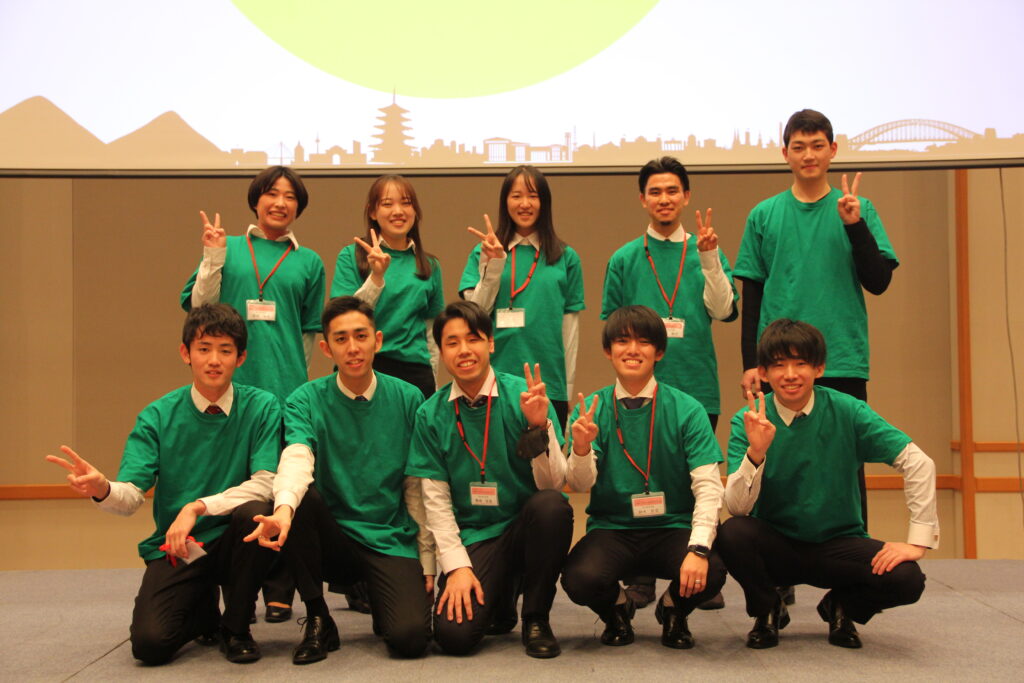 The "Policy Research Exchange Conference from Kyoto" is a competition in which students from member schools of the University Consortium Kyoto, which conducts research to identify and solve issues faced by cities, present their research results beyond the boundaries of universities.
This time, the University Consortium Kyoto is looking for student executive committee members who would like to participate in the planning and management of this competition!
If you become a member of the student executive committee, you can interact with students and faculty members from other universities, and you can acquire skills in organizing and publicizing the 500-person tournament.
Your ideas may take the form of projects and printed matter.
If you would like to participate, please confirm the following information before entering.
We look forward to the participation of motivated students!
Policy Research Exchange Conference from Kyoto Student Executive Committee
<Role of the Student Executive Committee>
・ Planning, preparation, and management of "student projects" to be held during the tournament ・ Implementation
of preliminary briefing sessions for conference presenters ・ Assistance
in preparing for the tournament ・ Activities of the Student Executive Committee and
publicity of the tournament (poster creation, SNS transmission, etc.)
・ Management staff on the day of the event (moderator, reception, guidance, setup), etc.

■Eligibility■
・University and graduate students attending member schools of the University Consortium Kyoto.
If you are motivated, it does not matter whether you are recuperating or faculous.
・Those who are involved in the tournament held in December and activities for the tournament.

■Activity Hours■
Activities are held about
once a week The actual number and time of activities will be decided by the Student Executive Committee.

■Activity location■ Campus Plaza Kyoto (5-minute walk from Kyoto Station)

■Recommended for people like this■

・ I am learning about policy, I am interested ・ I want to do something but I
am worried about what to do ・ I
want
to try something new ・ I want to plan an event ・ I want to publicize and manage using poster design and SNS ・ I want

to interact with students from other universities etc.
Past Student Projects (for the last 5 years)
2022
Quiz Competition

Theme: Answering correctly is not
the goal Challenge various quizzes such as lateral thinking quizzes and Kyoto somewhere else

2021
Workshop (Online)
Theme: Young People's Gathering ~Proposal of New Lifestyle~
(Held a "feedback exchange meeting" where participants exchange opinions on each other's presentations in each subcommittee, and a "talk session" where participants share information and discuss student life during the coronavirus pandemic)
2020
Workshop (Online)
Theme: The future in which we live ~How to contribute to the local community~ (Workshops will be held online in the fields of "community development", "transportation", and "tourism and culture")
2019
Lecture
Theme: A future that coexists with AI ~What are the necessary thinking lessons~ Guest: Kaoru Takeuchi (Science Writer, Principal of Yes International School)

2018
Questionnaire-linked lectures
Theme: A to Z
, a town where young people want to live Guest: Naoki Shiomi (Project Associate Professor, Faculty of Regional Management, Fukuchiyama Public University)

■Others■
2022 Annual Meeting (Scene from the event)



About application



■How to apply■
Please enter from the following (application button).



Inquiries
Consortium of Universities Kyoto Urban
Policy E-mail seisaku-admin-ml■consortium.or.jp (Please change ■ to @ and send)
TEL 075-353-9130 FAX 075-353-9101
〒600-8216 Campus Plaza Kyoto, Shimogyo-ku, Kyoto
, Shiokoji, Nishinotoin-dori ※ Reception hours: Tue~Sat 9:00~17:00