Miu Hayashida, the representative of Noda Seminar Group C of the Faculty of Policy Studies, Doshisha University, who won the University Consortium Kyoto President's Award and the Japan Public Policy Association Award at the 18th Policy Research Exchange Conference from Kyoto, presented "Policy Media," a non-profit (public good) media specializing in "policy commentary" operated by the Policy Analysis Network (a public-private partnership policy platform). It was performed in.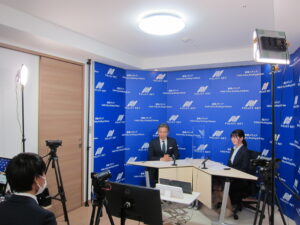 After the recording, we had a meeting with Mr. Susumu Takahashi (Chairman of Japan Research Institute, Emeritus), Vice President of the Policy Analysis Network, and Mr. Heizo Takenaka (Professor Emeritus, Keio University), the first president.
We received feedback on the content of the presentations, and there was a lively exchange of opinions with each other.
The video will be released in about one month, so we will inform you again when it is released.
"Policy Media" homepage is here