Theme: Inter-University Collaboration and Regional Revitalization

 Focusing on the role that universities play in the community, we will learn and consider advanced initiatives to solve various regional issues. As regional issues become more complex and large, it is no longer possible for a single university to solve them. Collaboration not only among universities but also among institutions will create a synergistic effect on wisdom and power, and it will be possible to overcome difficult problems and revitalize local communities. Please join us.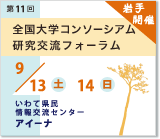 Day time
Saturday, September 13, 2014 12:00~20:15 Sunday, September 14, 2014 9:30~11:30
Venue
Iwate Prefectural Information and Exchange Center Aiina
Te Ma
Inter-University Collaboration and Regional Revitalization Initiatives
Organizers
National University Consortium Council
Co-organizers
Iwate Higher Education Consortium
 
Participation fee
Attendance fee
3,000 YEN
Information exchange meeting
3,500 yen
Reports 
¥1,000
Application Period
Saturday, June 7, 2014 ~ Thursday, July 31, 2014

Simultaneous recruitment!

Workshop

: "Let's talk about university conso!"

Contact information
National Association of University Consortium Secretariat (University Consortium Kyoto) TEL 075-353-9100 FAX 075-353-9101
〒600-8216 Campus Plaza Kyoto, Shimogyo-ku, Kyoto
, Shiokoji-dori Nishinotoin-dori ※Business hours: Tuesday ~ Saturday 9:00~17:00 (excluding year-end and New Year holidays)