Theme: "For You Who Become a Student Writer: The Iroha of Interviews with Professionals"
This time, we will welcome Kazuko Iwamoto, a freelance writer who has written many articles on various themes, to give a lecture to everyone who is interested in student writers.
In addition to specific writing skills, such as the steps from the time of the interview to the start of writing the article, and the points to note from article correction to publication,
we will deliver content that will help you improve your conversation catch-ball skills and how to ask questions during interviews.
It also includes group work, making it a fun course where participants can interact with each other!

≪ all university and graduate students attending universities in Kyoto can participate for free. ≫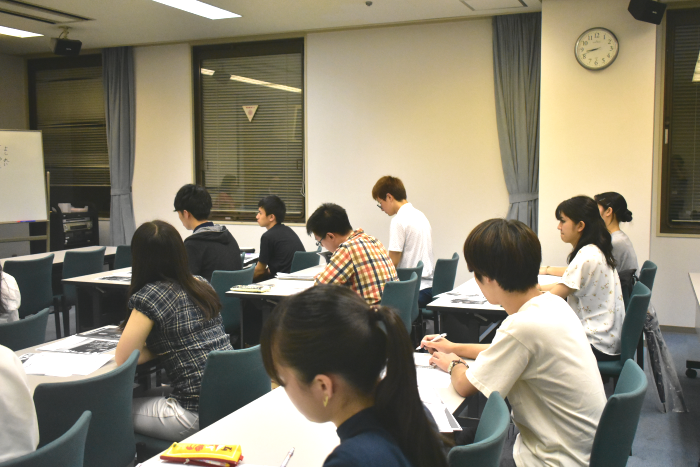 *This photo shows the training held in fiscal 2019.
◆ Especially recommended for students like this ◆
・ People who are interested in editing magazines and web media and writing articles
・ People who are interested in telling people ・
People who like writing, people who are not good at writing but are interested
・ I want to liven up the community! People who think that
Instructor
Yoshimoto Kogyo Official Writer Kazuko Iwamoto
< Profile>
In 1997, he joined editorial production and experienced the production of fan club newsletters and town information magazines.
After leaving the company, he joined the editorial department of an entertainment information magazine in 2007 as a contractor, mainly in charge of articles on entertainment and theater.
He left in 2017 and is now freelancing. I work on articles for magazines and the web for entertainment, town stories, and corporate in-house newsletters.
Outline of the event
Date of the event

Thursday, May 20, 2021, 19:00~21:00【Finished】
(Reception opens at 18:45)

* Please apply in advance.

Place
Campus Plaza Kyoto 4F Lecture Room 3
Eligibility for participation

Current students attending universities, graduate schools, and junior colleges in Kyoto Prefecture (especially first- and second-year students
)

Belongings
Student ID, writing utensils
Visitor capacity
20 (first come, first served)
Capacity for online (Zoom) participation
50 (first come, first served)
* Please do not forget to bring your student ID card so that we can confirm that you are a student at the reception of your visit on the day of the event.
* This training is scheduled to be held in a hybrid format that combines face-to-face and online, but please note that depending on the situation of the new coronavirus infection, it will be held only online and the start time may change.
Details / Application
■For details and application, please see the Kyoto Student Public Relations Department website "Kotokare" below.
【終了】「学生ライターになるあなたへ―プロに聞くインタビューのいろは―」
Contact information
University Consortium Kyoto, Kyoto Student Public Relations Department Office
TEL 075-353-9130 FAX 075-353-9101
〒600-8216 Campus Plaza Kyoto Shiokoji, Nishinotoin-dori, Shimogyo-ku, Kyoto
※Reception hours: Tuesday ~ Saturday 9:00~17:00 (excluding year-end and New Year holidays)