Overview of the business
 The Kyoto Video Contest Executive Committee held a video contest with the aim of promoting the appeal of "Kyoto, the City of Students," as well as contributing to the promotion of the distribution of digital content originating in the region and human resource development.
Outline of the event
 We would like to inform you that the winning works have been determined as follows as a result of a rigorous screening by the Judging Committee, including external judges, for works submitted during the application period from August 1 (Mon.) ~ October 28 (Fri.). The winning works will be used to promote the appeal of "Kyoto, the City of Students" and to promote the distribution of digital content originating in the region.
Implementation Report
【Prize-winning Works and Student Division】 * Please enlarge the screen with the button at the bottom right.
Grand Prize (Kyoto President's Award, Consortium of Universities
) Title: Mountain Climber
Name: Munema
Iisaka (4th year student, Faculty of Integrated Human Studies, Kyoto University)

Producer's comment
: "I fondly remember the four years I spent in Kyoto as a student near graduation.
Excellence Award (Executive Committee Chairman's Award)
Title: Kyoto × Kyoto
Producer: Masaki
Ohno (Ritsumeikan University, 2nd year)

Producer's Comment
: "With the theme of 'When you come to Kyoto, let's get used to Kyoto,' this work expresses the culture of Kyoto that is familiar to both Japan and overseas."
Special Award (Telecommunications Bureau Director-General's Award
) Works
recognized for promoting the distribution of digital content rooted in the region Title :Routine Life
Creator Name: Hidden Kyoto
Kosuke Iwasaki, Fuuna
Onishi (Doshisha University Faculty of Global Communication 4th year)

Producer's comment
: "We are very honored, and we are working to convey the hidden charm of Kyoto. I would like to take this opportunity to encourage myself even more."
【General Division】
As a result of the judging by the judging committee, there were no works that qualified for the prize.
---
On Friday, December 23, 2016, the award ceremony for the Kyoto Video Contest was held at Campus Plaza Kyoto. The winners of the Grand Prize, Excellence Award, and Special Award in the Student Division were presented with certificates and prizes, respectively, and their award-winning works were screened at the venue. The judges commented on the award-winning works, indicating the high quality of the works. After that, the award winners shared their comments on the award and their thoughts on the work, and the venue was filled with a warm atmosphere and loud applause.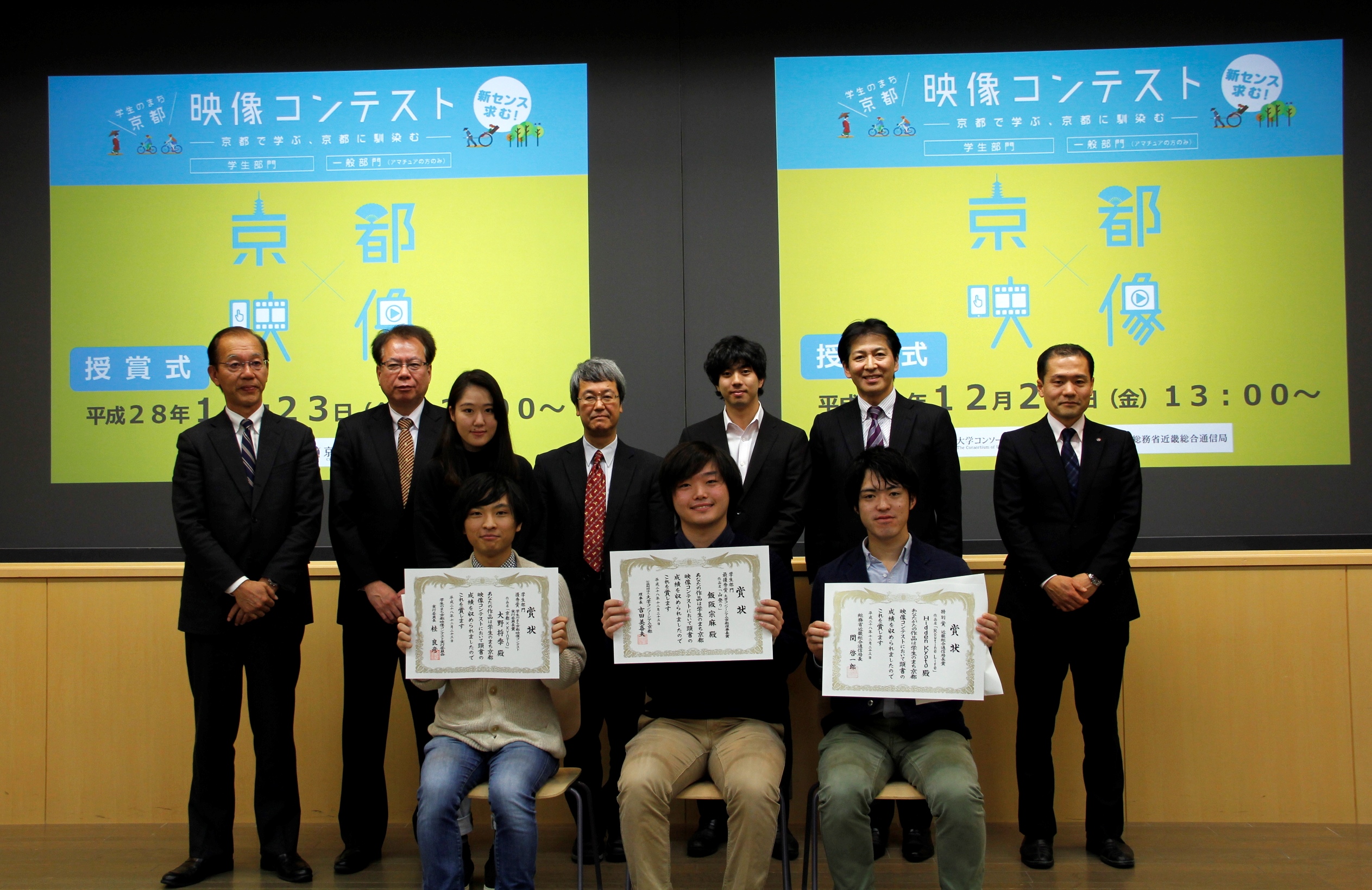 Theme settings
Theme of Entries "Learning in Kyoto, Getting Familiar with Kyoto" We are looking for works with a variety of images, such as the appeal of studying in Kyoto (ancestors, tradition, culture, history, technology, university) and the interaction with the city and people of Kyoto
.
【Specific image examples】
(1) A video work that expresses the university town of Kyoto and the student city of Kyoto that was revealed only by living (living) student life in Kyoto (2) A video work
that expresses the "warmth of people" that I experienced while living as a student in Kyoto (interaction with local people, scenes where I felt the hospitality unique to Kyoto, etc.)
(3) Edgy video works that can be disseminated to junior high and high school students and shared on SNS (make you want to visit Kyoto or go on to Kyoto) (4)
Video works that express Kyoto's unique culture and amazing technology in an easy-to-understand manner (cutting-edge technology, traditional crafts, etc.)
Implementation System
Organizer
: Kyoto Video Contest Executive Committee
(Kyoto City, Telecommunications Bureau, Ministry of Internal Affairs and Communications, University Consortium Kyoto)
Co-organizer
Information and Communications Council
Supported by Kyoto Prefecture, NHK Kyoto Broadcasting Station
Kyoto Broadcasting System Co
., Ltd., KCN Kyoto
Co., Ltd., J:COM Kyoto Miyabijon
ODCC (Osaka Digital Content Business Creation Council)
Related page
◇ School trip website "Kyoto School Trip Navi"
http://kyotoshugakuryoko.jp/
◇Kyoto Student Public Relations Department website "Kotokare"
https://kotocollege.jp/
Contact information
Kyoto Video Contest Executive Committee
Kyoto City Planning Bureau, Policy Office, University Policy Office TEL 075-222-3103 Research and Public Relations Division, University
Consortium Kyoto TEL 075-353-9130 FAX 075-353-9101
Information and Communication Collaboration Promotion Division
, Information and Communications Department, Bureau, Ministry of Internal Affairs and Communications TEL 06-6942-8623