Business Overview
In a situation where the environment surrounding universities is changing rapidly, the management and operation of universities has come to occupy an important position, and the role of university staff is becoming very large. In order to adapt to such an environment, we are developing various projects to improve the qualifications of university staff, including management and operation, education and research support.
The SD Forum takes up themes of growing interest in the SD field, and aims to provide a place for improving the abilities of university staff and exchanging information beyond the boundaries of the university through keynote speeches, case reports and exchange of opinions in breakout sessions.
Outline of the event
The 21st SD Forum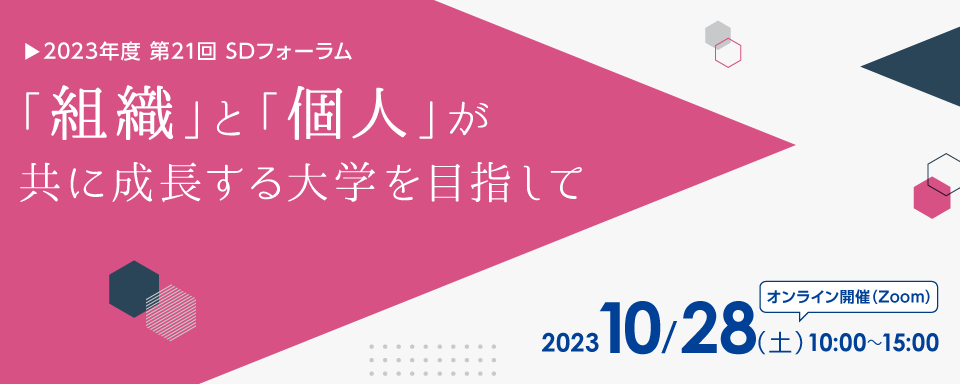 Te Ma

Aiming to be a university where "organizations" and "individuals" grow together

Schedule

Saturday, October 28, 2023 10:00~15:00

Venue

Online (Zoom)

Target

University faculty and higher education personnel

Participation Fee

Member universities and junior colleges: 1,000 yen
For those other than the above: 4,000 yen

Participation Requirements

Limited to those who can participate via Zoom.

Contents

The flyer for the 21st SD Forum can be downloaded here.


Organizer

University Consortium Kyoto
time
substance
Capacity
(First come, first served)
Keynote Speech
10:00~
12:00
Creating an organization that draws out the motivation and abilities of faculty and staff

Lecturer:

Hajime Ota
(Professor, Faculty of Policy Studies, Doshisha University)

400
Breakout Sessions
13:30~
15:00
【Subcommittee 1】
Science of Human Resource Development: Focusing on Off-JT for Practical Knowledge Sharing among Staff

Lecturer:

Kiichi Takenaka
(Associate Professor, IR and Education Support Center, University)

200 people
【Subcommittee 2】
Purpose Model
―Communication that connects your thoughts with the organization and moves the team―

Lecturer:

Yurie Kibi
(

Project Designer

, Innovation Design Center, Nikken Sekkei Co., Ltd.)

200 people
* Application for the keynote speech is mandatory. To apply for a subcommittee, please select either Subcommittee 1 or Subcommittee 2.
Application
Participation Fee
affiliation
division
Participation fee
Member Universities and Junior Colleges
Faculty
JPY 1,000
Students (including graduate students)
free
Non-member universities and junior colleges Other organizations and companies
Faculty, Staff, General
JPY 4,000
Students (including graduate students)
free
Except in the case of cancellation, the participation fee will not be refunded regardless of the reason.
Please note that you cannot change the application details after completing the application procedure.
The payment deadline is Tuesday, October 10, 2023. If the payment procedure is not completed by the due date, it will be judged that you do not intend to participate and your application will be invalidated.
Please note that even if you pay a large amount of the participation fee due to incomplete entry of affiliation, classification, etc., you will not be able to receive a refund.
If the participation fee is insufficient, the shortfall will be charged later.
Payment of Participation Fee
You can select the following payment method (1)~(3).
(1) Credit card payment (2) Convenience store payment (3) Account transfer
(1) and (2) are payments using the mail link type system "Paysys".
Information regarding (1) and (2) will be sent from the email address of PACESIS <info@paysys.jp> .
(3) In the case of payment by bank transfer, you will be responsible for the transfer fee. Please note.
Credit card information is not retained by the University Consortium Kyoto.
It is sent to the credit card company through Metaps Payment Co., Ltd., a payment system operator.
Application Period
An advance application period has been established for faculty, staff, and students of universities and junior colleges that are members of the University Consortium Kyoto.
Member universities and junior colleges: September 1, 2023 (Fri) 10:00 ~ October 6, 2023 (Fri) 17:00
For those other than the above: September 8, 2023 (Fri) 10:00 ~ October 6, 2023 (Fri) 17:00
Step 1

Application (first-come, first-served basis)

After accessing the application site and confirming the precautions regarding participation,
You can proceed to the participation application form from the "Confirm and apply" button.

After completing the application procedure, we will send you an "Application Acceptance Completion Email".
If the participant and the invoice delivery address are different, the "Application Acceptance Completion Email" will be sent to the e-mail address listed in the invoice delivery address column.
We will send it to you. (It will not be sent to the e-mail address listed in the participant column)
If you do not receive the "Application Completion Email", please contact us.

Step 2

Information on the special website

We would like to inform you of the special website of the project that you have applied for after October 20 (Friday).
On the special website, we will provide pre-release materials and information on how to participate in Zoom.
Step 3

On the day of the forum

Please follow the instructions on the special website to access Zoom and participate.
About participation via Zoom
If you are joining Zoom for the first time, you will be prompted to install it when you access the URL, so please follow it to install Zoom. You can also install it in advance.
【Download Center】 https://zoom.us/download
You can test connect to Zoom in advance. 【Meeting Test】 https://zoom.us/test
* Due to preparations for the event on the day of the event, inquiries about Zoom operation methods will not be accepted.
* Please prepare an information terminal (PC recommended) by yourself and participate from a stable Internet communication environment.
* Troubles with participants' equipment and environment will not be handled by the secretariat.
If you have any questions or inquiries about Zoom【Zoom Help Center】https://support.zoom.us/hc/ja
Implementation Report
The report will be published in March 2024.
We will inform all participants by data.
* We do not sell report collections.
Inquiries
Consortium of Universities Kyoto SD Forum Secretariat
TEL:075-353-9163 FAX:075-353-9101
E-mail: sd■consortium.or.jp (please change ■ to @)
〒600-8216 Campus Plaza Kyoto, Shimogyo-ku, Kyoto
※Reception hours: 9:00~17:00 (excluding Sundays and Mondays)