Overview of the business
 University Consortium Kyoto (hereinafter referred to as the "Foundation") Since its establishment in 1994, member universities and junior colleges (hereinafter referred to as "member schools") have been established. In cooperation with local governments, economic organizations, and other organizations in the Kyoto area, which are members, we have been implementing various projects ahead of the rest of Japan. When implementing projects, we have collected project data, including participant questionnaires, and verified them to improve our business. As a result, the Foundation has gained many participants and continues to this day.
On the other hand, more than 25 years have passed since the establishment of the Foundation, and the social situation surrounding the Foundation and the university has changed significantly. In light of this situation, there is a need to pursue the uniqueness of the Foundation, which is a collaborative organization with universities, and to develop projects that meet the needs of member schools, local governments, and economic organizations. The Foundation's Fourth Stage Plan of the Medium-Term Plan points out the need to review the collected data that enables consideration of the ideal form of the Foundation over the medium to long term, utilize questionnaires and review items, provide information to member schools and member organizations, and promote information sharing.
For this reason, the Foundation's Expert Committee, the Research Project Planning and Review Committee, which was newly established in fiscal 2015, discussed and decided what items should be collected as project data and how to utilize it.
Please take a look at the following report to describe the Foundation's data collection status and future measures.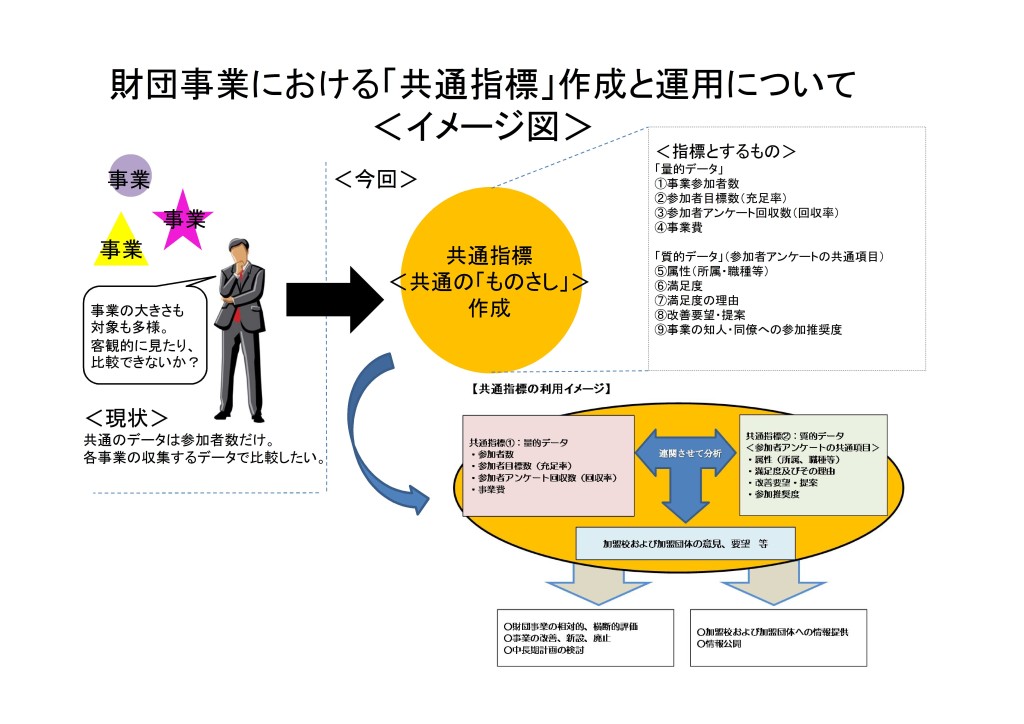 Click here for an enlargement of <image >
Results of Common Survey Indicators and Improvement of Foundation Activities
Since fiscal 2016, the results of the questionnaire (common indicators) for each project implemented by the Foundation and the points for improvement in response to participants' voices are summarized below.
1. Education Division
2. Education Development Division
3. Student Support Division
4. International Division
5. Research and Public Relations Division
Report "Project Data of the University Consortium Kyoto and its Utilization in Business"
Report 【Click here for details】1 Introduction
2 Points pointed out
in the 4th stage plan 3 Establishment
of the Investigation Project Planning Review Committee4 Progress
of deliberations by the committee5 Collection
of objective data by setting common indicators6 Questionnaire and verification
of member schools7 Collection of materials on initiatives
from FY2016 onwards 【Click here for details】

Contact information
Research and Public Relations Division
, University Consortium KyotoTEL:075-353-9130 FAX:075-353-9101
MAIL:shitei_kadai-ml■consortium.or.jp (Please change ■
to @ and send)
600-8216 Campus
Plaza Kyoto, Shimogyo-ku, Kyoto City, Shiokoji-dori ※Reception hours: Tue~Sat 9:00~17:00