Kyoto students themselves have developed an app for students to lead a fulfilling student life in Kyoto!
I want to change myself and find something new in my student life in Kyoto. I want to know the world I don't know…
KYO-DENT is an app for students in Kyoto.
▶ Click here for "KYO-DENT" flyer
[Until 3/31, first come, first served] Get 5,000 points for new downloads!
Those who download the app newly during the period will receive 5,000 points.
Would you like to enrich your university life even more with the app?
【Period】March 10, 2023 (Fri) 13:00 ~ 31 (Fri)
* Even before the end deadline arrives, this campaign will end when the maximum number of points of the campaign is reached.
* Some universities do not allow you to exchange or use points.
* 100 points = 1 yen can be used and exchanged.
Kyoto City Campus Culture Partners System is available!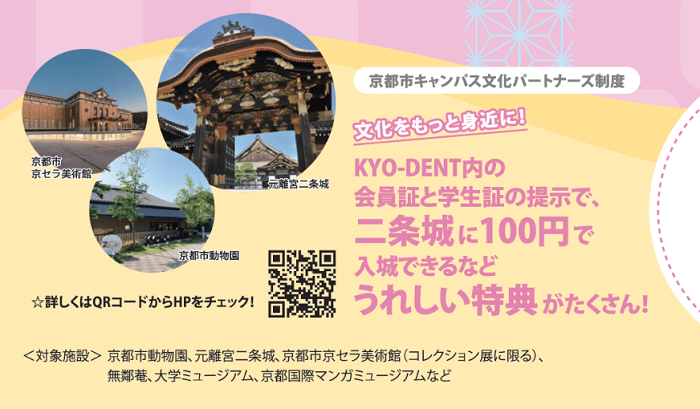 ◆Kyoto City has established the "Kyoto City Campus Culture Partners System" since the 22nd academic year in order to deepen students' understanding of culture and the arts and enrich their student lives by providing students with an environment that is friendly to culture and the arts and providing opportunities to build contact points with the local community through participation in cultural and artistic activities.
◆ By presenting your in-app membership card and student ID, you can enter Nijo Castle, Kyoto City KYOCERA Museum of Art, Kyoto City Zoo for 100 yen, and various other benefits.
◆Click here for details on the Kyoto City Campus Cultural Partners System and target facilities.
And much more! What you can do at KYO-DENT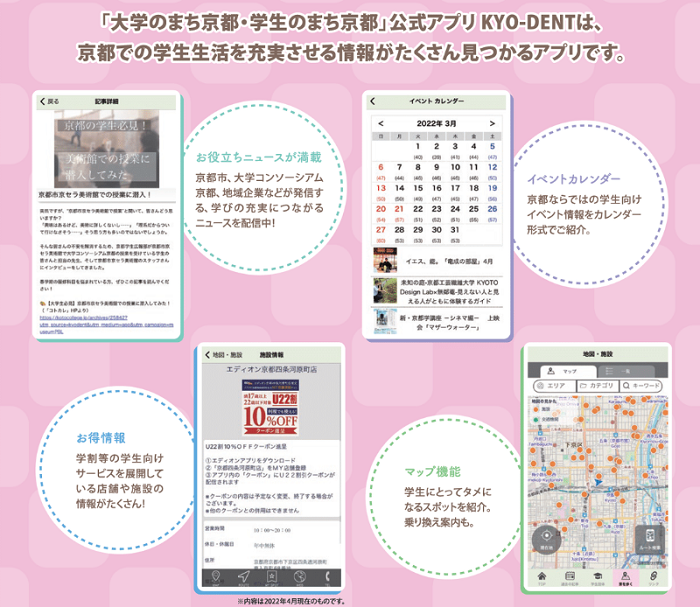 ◆News Deliver news from Kyoto City, University Consortium Kyoto, local companies, etc. for students that will lead to enrichment of learning!
◆Event Calendar
Deliver event information for students unique to Kyoto in calendar format!
◆ Deals Information
on stores and facilities that offer student services such as student discounts is delivered on a map and by category!
◆ Map function
Introducing spots that are good for students. Transfer guidance is also available.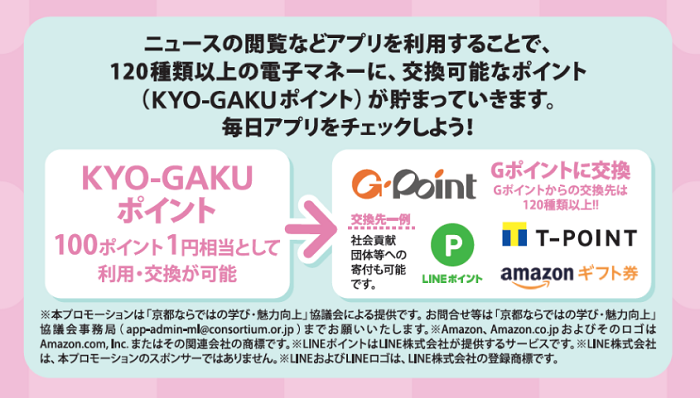 ◆ Points
By using apps such as reading articles, you can accumulate points that can be exchanged for your favorite electronic money (more than 120 types in total)!
◆ Kyo Mebae
The "sprouts" of Kyoto vegetables grow according to logging in to the app and using the app, and you earn points in the app by harvesting Kyoto vegetables!
Download it here!
Development in progress
With the aim of steadily delivering to students various initiatives and various information for students to realize a student life that can only be experienced in Kyoto, the "Kyoto App for the City of Universities and the City of Students" is a "learning and attractiveness improvement unique to Kyoto" with the technical cooperation of Jordan Co., Ltd. The council (consisting of Kyoto City and the University Consortium Kyoto, etc.) started joint development in 2019.
(1) Recruitment of student project members
In order to make the developed app available to more students, we are looking for members who propose app functions from the student's perspective.
Members who think of apps for university students are divided into two teams to create app proposals unique to students who study and live in Kyoto.
* We are not currently recruiting.
(2) Student Project Members Kick-off Meeting
On July 10, 2019, a kick-off meeting was held by the app's student development project members.
We recruited student project members to incorporate students' perspectives and ideas in the development. In the future, 12 students will be divided into two teams to discuss the app's functions, design, and PR methods.
On this day, we held a kick-off meeting for the first time. There are various motivations for participating, such as "I want to create something by making use of my ideas" or "It seemed fun to do something with students from other universities", but members from various faculties and grades will work together to advance the project.




(3) Meeting with Student Project Members Jordan Corporation
On August 6, based on the responses to a questionnaire collected from 340 students, we held a brainstorming session with staff from Jordan Co., Ltd., a technical cooperation company.
Jordan explained the recent trends in apps (what functions, designs, and operability are mainstream, etc.), and how to improve the calendar function of the new app, the usability of My Page, and how much information can be enriched. How to make a design that is unique to Kyoto? What is the name and icon of the app? Use characters?? There was a lively exchange of opinions.
During the summer vacation period from August ~ September, full-day meetings are held every week to solidify the proposals of the student members. Even after today's meeting, students will gather individually and use apps such as Slack to continue discussions among members.



(4) Student project members: Courtesy call on the Mayor of Kyoto City
On the occasion of the release of the student app KYO-DENT, student project members paid a courtesy call on the mayor of Kyoto.
The student app "KYO-DENT", which we have developed with 11 student project members, will finally be officially released on March 26, 2020.
On Tuesday, March 24, student project team members gave a presentation to the mayor of Kyoto City on the features and functions of the app. The students explained to the mayor that they had developed the app with their own thoughts, such as "I want you to like Kyoto," "I want you to broaden your horizons from a lot of information," and "I want you to create your university life with friends from various universities."
The mayor of Kyoto City commented, "I am pleased to have an app that disseminates information to individual students, and Kyoto is a good place where students from various universities can work together and learn," and expressed his hope that the spread of the app will create active exchange and diverse learning.


For a courtesy call on the Mayor of Kyoto, please click here!  ⇒ Article published on the Kyoto Student Public Relations Department website "Kotokare"
(5) Release
On March 26, 2020, the app was finally completed and launched!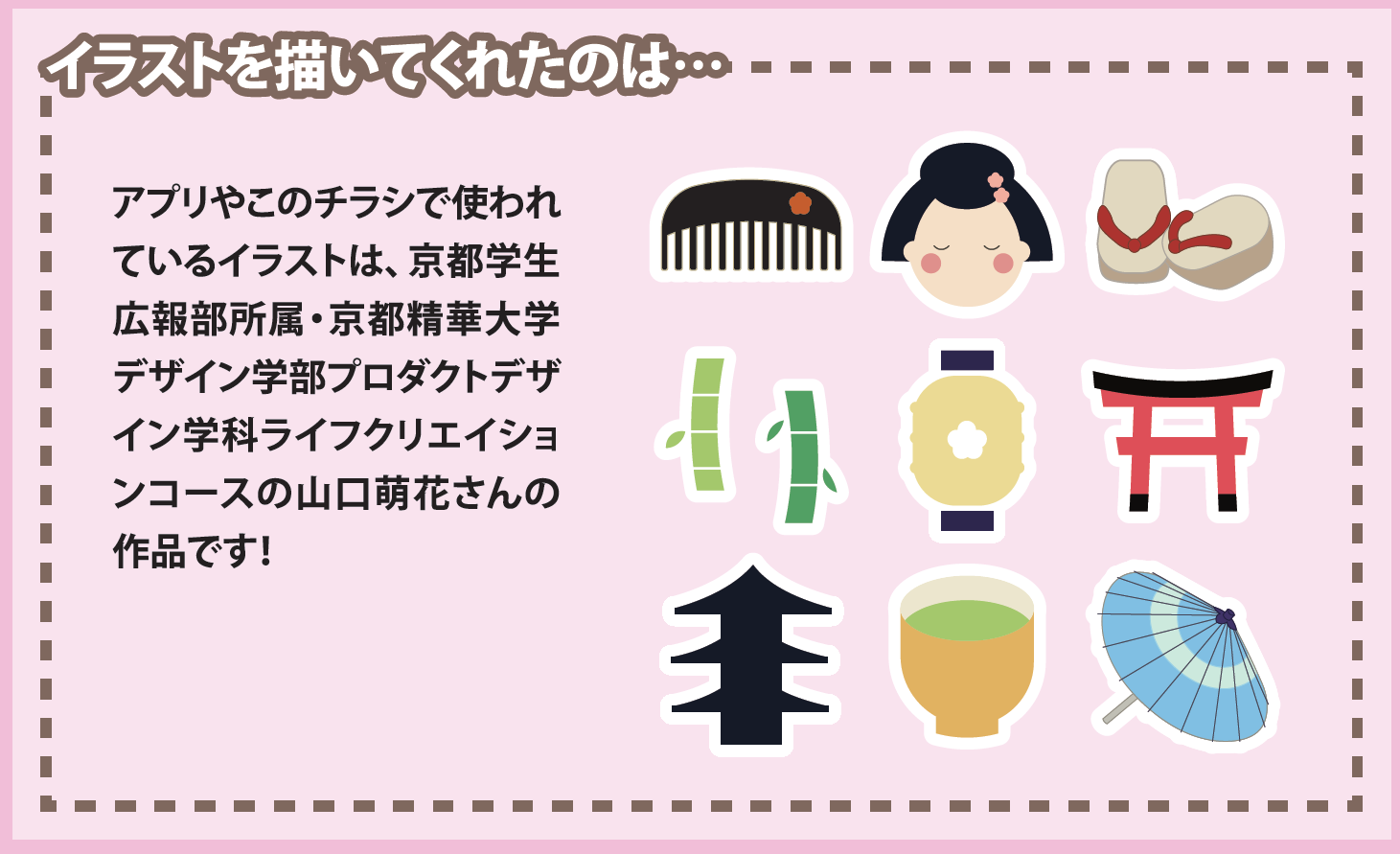 Contact Us
"Learning and Improving Attractiveness Unique to Kyoto" Council Secretariat
Kyoto City Planning Bureau Policy Office / Research and Public Relations Department
, University Consortium Kyoto TEL:075-222-3103/075-353-9130 FAX:075-222-2902/075-353-9101

MAIL:app-admin-ml■consortium.or.jp (change ■ to @ and send)