"2022 Internship Program Application Guidebook" has been published!
---
【Contents】
・ Flow
of application for participation in the program ・ Features of the two courses (1) Business Course / Public Course (2) Long-term project course ・
List of training sites with a wide variety ・ Experiences


of seniors who participated in the program What I would like you to pay special attention to is the experiences of my seniors.
The five alumni who talked in a dialogue format said, He explained in detail the reason why he participated in the internship and what he noticed during the practical training.
It is sure to be very helpful for students who are hesitant to participate in the internship.
Please read on!

Recruitment guides are distributed at each university's Career Center and Campus Plaza Kyoto.
You can also view the following internship program portal site, so please take a look.

If you have any questions or consultations about the program, please feel free to contact the Internship Business Promotion Office.
募集ガイド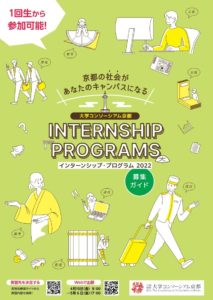 Contact information
Consortium of Universities Kyoto, Internship Program Promotion Office
TEL 075-353-9106 FAX 075-353-9101
〒600-8216 Campus Plaza Kyoto
, Shimogyo-ku, Kyoto *Reception hours: Tuesday ~ Saturday 9:00~17:00 (excluding year-end and New Year holidays)