Out of the approximately 250 students who participated in the 2021 Internship Program, all 13 graduates of each course sent warm messages to students who are considering internships!
They have shared their reasons for deciding to participate in the program and their impressions after participating.
Please refer to the experiences of your seniors!
Click here for a message ▶ from my seniors
---
The 2022 Internship Program Flyer can be downloaded by clicking the image.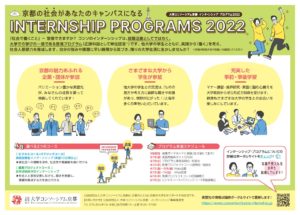 University Consortium Kyoto Internship Project Promotion Office
Mail intern@consortium.or.jp
TEL 075-353-9106 〒600-8216
Campus Plaza Kyoto
, Shimogyo-ku, Kyoto *Reception hours: Tuesday ~ Saturday 9:00~17:00 (excluding year-end and New Year holidays)
Internship Program Portal Site