In the "Internship Progress Course" of University Consortium Kyoto, from mid-June to the end of November, interns worked on projects presented by host companies. At the results report meeting held on Saturday, November 10, the results of each of the five projects were reported. Some presentations included videos and other formats, and the presentations allowed students who participated in other projects to share their experiences. After about five months of activities, we could see the efforts and results of working on the project, such as the importance of cooperating with colleagues and the difficulty of achieving goals.
At the completion ceremony after the results report session, the coordinator faculty handed out a "completion certificate" for each project, and the 2018 "Internship Progress Course" came to an end.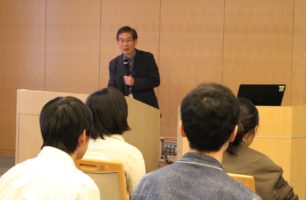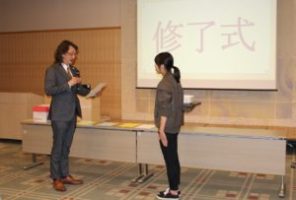 date and time

Saturday , November

10

,

2018

10

:

40-17

:

50

_

_

_

venue

Campus Plaza Kyoto 2F Hall

Number of companies and organizations participating in the project
(in order of results report announcement)

5 companies/organizations

Wine Grocery Co., Ltd./Kyoto City Shimogyo Ward Office/Insight House Co., Ltd./Sports Communication KYOTO Co., Ltd. (Kyoto Hannary's)/Kyoto Prefectural Board of Education

Number of students attending
18 people from 8 universities 

(Kyoto Prefectural University/Otani University/Kyoto Women's University/Doshisha University/Ritsumeikan University/Ryukoku University/Kansai University/Shitennoji University)

Number of Coordinator Faculty

6 people

(Ryukoku University/Kyoto Seika University/Fukuchiyama Public University/Kyoto Institute of Technology/Kyoto Koka Women's University/Kyoto Koka Women's University Junior College/Kyoto Gakuen University)


Wine Grocery Co., Ltd.
~Planning and holding wine seminars for students~
---
A project to plan and execute wine seminars for students while learning about wine through work at a wine shop. In preparation for holding the seminar, there were presentations about the difficulties in attracting customers, the situation on the day of the seminar, and the aggregate results of the questionnaire conducted at the seminar. They seemed to realize that wine is not just alcohol, but also a communication tool, learning about the historical and cultural background.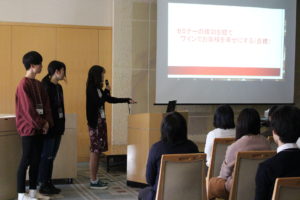 Kyoto City Shimogyo Ward Office
~ Shimogyo Ward Charming Project ~
---
In order to convey the charm of Shimogyo Ward so that many people will feel that they want to live and continue to live, we will use SNS (Twitter), which has a large influence on young people and many people, to disseminate information. There was an announcement. They also pointed out improvements to improve the ability to disseminate information more widely, such as popular content, the influence of people who retweet, links and hashtags.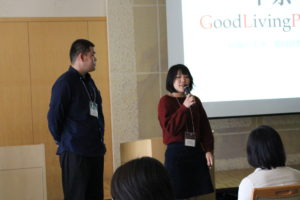 Insight House Co., Ltd.
~Yamashina-san Project~
---
Through interviews and communication with local residents, we have been able to feel the ease of living in the Yamashina area and the warmth of the people who live there. He gave me There were introductions of free papers and videos created as a result of the activities.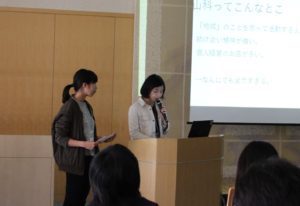 Sports Communication KYOTO Co., Ltd. (Kyoto Hannary's)
~Kyoto Hannary's Customer Attraction Project~
---
As a project to experience the world of sports business, in order to increase the number of line registrations so that the professional basketball team "Kyoto Hannary's" will attract more customers, we will divide into teams and announce activities such as publicity methods and planning of member benefits. gave me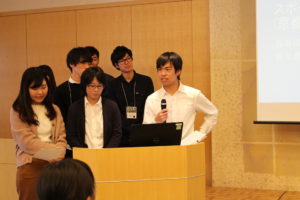 Kyoto Prefectural Board of Education
~Teacher Training Support Seminar~
---
Uji Municipal Udo Elementary School
Uji Municipal Higashiuji Junior High School Joyo
Municipal Nishijoyo Junior High School
Four students who have completed their internships introduce their internship destinations and activities, and what they felt and realized by actually interacting with students at the school. , and what I couldn't do, I reconfirmed what I needed to be a teacher. This year's theme was "Scolding," and there were presentations on consideration of children's development.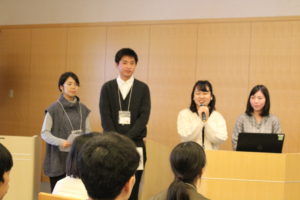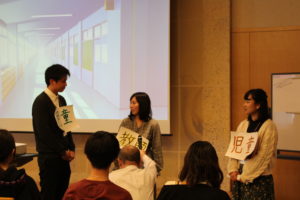 Social gathering
A social gathering was held after the results presentation. Three trainees acted as moderators, and the event was very lively with games such as self-introduction bingo and sudden interviews. After finishing the activities, it was a social gathering where we were able to frankly interact with the trainees and coordinators.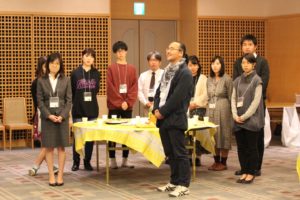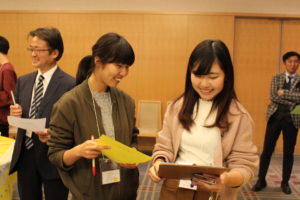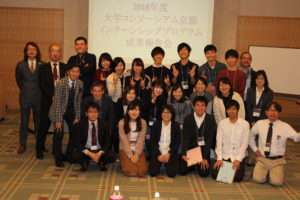 Contact Information
Public Interest Incorporated Foundation University Consortium Kyoto Internship Business Promotion Office
TEL 075-353-9106 FAX 075-353-9101
Campus Plaza Kyoto, Shimogyo-ku, Kyoto 600-8216
* Reception hours: Tuesday to Saturday 9:00-17:00 (excluding year-end and New Year holidays)