On July 19th (Sat), we invited Mr. Kazuhiro Takemura of TLL Language Institute as a lecturer and held the 1st FD/SD English skill improvement seminar "English Voice Training" for university teachers and staff.・A total of 60 people from junior colleges participated. This class was held last year and was very well received.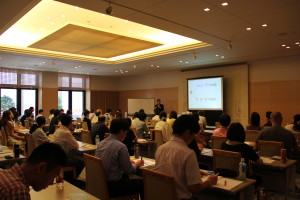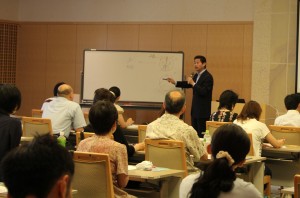 In the seminar, it is effective to conduct voice training after understanding the characteristics of English pronunciation and language. differences in pronunciation (English is a language of breath, while Japanese is a language of voice), differences in accent A theoretical lecture was given using visual materials and other materials.
In the afternoon, we actually practiced pronunciation based on the contents of the theory lecture in the morning. Pronunciation practice was systematically conducted for each characteristic of the phonetic symbols, and the training was extremely practical and enjoyable, with explanations using a whiteboard on the mechanism of mouth and tongue movements during pronunciation.
After the pronunciation practice, a lecture was given on basic knowledge and know-how for making presentations in English, effective English learning methods, etc.
In the questionnaire, the impressions such as "I was able to solve things that I didn't understand in my daily life", "It was good that I could take the course regardless of my level of English ability", and "I liked the practical practice that I could see". has been sent.
---
The 1st
SD training program for globalization "FD/SD English skill improvement training for university teachers and staff"
"English Voice Training"
[Click here for details]
---
Public Interest Incorporated Foundation Consortium of Universities Kyoto International Collaboration
TEL +81-75-353-9164 FAX +81-75-353-9101
Campus Plaza Kyoto, Shimogyo-ku, Kyoto 600-8216
※Business hours: Tuesday-Saturday 9:00-17 :00 (excluding year-end and New Year holidays)