On Saturday, March 28, at Campus Plaza Kyoto, we will hold a lecture and report on the results of the 2014 Study Abroad Program Development Support Project, a joint project between Kyoto City and the University Consortium Kyoto. Development and practice" (held at the same time: 2015 grant project application briefing session) will be held.

This time, we have invited guests who are on the front line of planning unique study abroad programs, and will share practical stories that are useful for development and management.
In addition, we will explain the application for the next year's support project, report the results of the programs implemented to various countries so far (posters), and have a small interaction between the people concerned (you can ask questions).
We are looking forward to the participation of a wide range of people, including university faculty and staff, who are interested in planning to study abroad.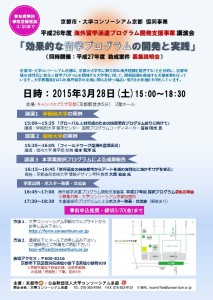 Business summary
Kyoto City/University Consortium Kyoto is promoting a project to support the development of overseas study abroad programs for member universities, junior colleges, and graduate schools of the University Consortium Kyoto, with the aim of providing Kyoto university students with an attractive overseas experience. .


Overview of the event
"FY 2014 Study Abroad Program Development Support Project" Lecture/result report
 meeting
theme
"Development and practice of effective study abroad programs"
date and time
Saturday, March 28, 2015 15:00-18:30
venue
Campus Plaza Kyoto
(5-minute walk from Kyoto Station) 2nd floor hall
organizer
(Public interest incorporated foundation) University Consortium Kyoto/Kyoto City
Capacity
Approximately 70 (For teachers and staff, full-time and part-time working style does not matter)
Entry fee
Free *Advance registration is recommended.
program
time
content
15:00~
opening
15:05-15:35
[Lecture]
"Creating an International Education Program for Global Human Resource Development"
Mr. Kunimitsu Mayaya, International Program Coordinator, Center for International Education, Waseda University
15:35-16:05
[Lecture]
"Fieldwork type overseas agricultural training"
Shinshu University Faculty of Agriculture Assistant Professor Kazuhiro Nemoto
16:15-16:45
[Result report of adopted program]
"Learn how to use art to revitalize the city from a World Heritage sister city"
Professor Hiroshi Onishi, Department of Information Design, Kyoto University of Art and Design
16:45-17:00
[Recruitment Briefing]
Study Abroad Program Development Support Project
2015 Adopted Program Recruitment Briefing
* Recruitment target: Universities Consortium Kyoto member schools
17:30-18:30
[Poster presentation/exchange meeting]
Poster presentation and networking event (with light meals) by the program selected for this project
18:40
closing
Application
Participating faculty and staff members are requested to apply by one of the following methods by Friday, March 20 .
Method 1
Please apply through the website below.


Method 2
Please apply by e-mail.
[Subject] 2014 Study Abroad Program Development Support Project Lecture/Results Report/Recruitment Briefing [
Text] (1) Name (Furigana) (2) Affiliation/Position
With the above contents, kcai-office consortium Please apply at .or.jp.
(Please change ■ to @

when sending. )
Contact information
Public Interest Incorporated Foundation Consortium of Universities Kyoto Educational Development Department International Collaboration
TEL: +81-75-353-9164 (direct) FAX: +81-75-353-9101
Campus Plaza Kyoto, Shimogyo-ku, Kyoto 600-8216
※ Reception desk Hours: Tuesday-Saturday 9:00-17:00 (excluding year-end and New Year holidays)