We are looking for MCs for the 19th Kyoto International Student Film Festival (11/26-12/2)! We look forward to receiving many applications, such as those who are good at making announcements, those who like movies, and those who want to liven up the film festival together. Please see the application guidelines for details. *It doesn't matter if you have MC experience or not.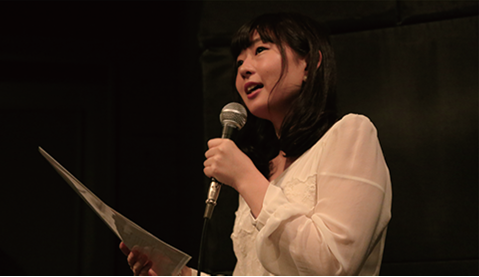 Recruitment period
Entry period: August 10th (Wednesday) to September 11th (Sunday)
Audition date: September 17th (Saturday) and 18th (Sunday) Venue: Campus Plaza Kyoto Number of

applicants:
4
◆Eligibility
・You must be a student (university, junior college, vocational school) living in Kansai.
・You must be interested in movies and have the intention to liven up the film festival together.
・Able to participate in the audition (one of the dates above)・
Must be able to attend at least 3 days during the festival period (November 26th to December 2nd )
Approximately 2 hours per film festival)
・Must be able to meet in advance with the person in charge of the Film Festival Executive Committee in Kyoto in October and November. How to apply

① Please enter from the inquiry form on the official website of the Kyoto International Student Film Festival.
 <Inquiry form entry example>
 Inquiry item: Other inquiries
 Name: Kyoko Movie
 Phone number: 080-××××-××××
 E-mail address: eiga.love@kisfvf.ne.jp
 Inquiry content: This is Kyoko Eiga, a student at 〇〇 University, 〇〇 Department, 〇〇 Department. I want to apply for the MC project.
(2) The executive committee will send an email with the entry sheet attached.
③Please fill in the necessary information on the entry sheet and send it back to the Executive Committee.
④As soon as the contents of the entry sheet have been confirmed, the executive committee will send an acceptance completion email.
◆ Notes on application
① Participation fee for this project is free. (Transportation expenses for auditions and meetings, and other expenses related to application must be borne by the applicant.)
2. If selected, transportation expenses to the film festival venue will be negotiable.
③ Personal information entered at the time of application will be used only for purposes related to this project.
◆Examination/Announcement of Adopted Candidates
Based on the audition, the film festival's executive committee will select the winners. Applicants will be notified of the results of the selection process by email, and the results will also be announced on the official SNS account of the film festival. Please note that we will not accept any questions or objections regarding the screening results.
<Inquiries regarding this matter>

19th Kyoto International Student Film Festival Executive Committee MC Recruitment Planning Receptionist, Campus Plaza Kyoto,Shimogyo-ku, Kyoto 600-8216
TEL: 075-353-9430 (closed on Mondays)* If I am not available, please contact me by email.
Address: info■kisfvf.com (please change ■ to @)
Kyoto International Student Film Festival Executive Committee Official Website