17th Kyoto International Student Film Festival Competition Section

The 11 winning films to be screened in the competition section of the 17th Kyoto International Student Film Festival were selected from a total of 350 submissions from 27 countries by the student executive committee. Not only domestic works, but also many overseas works, genres of winning works are various. Here are the 11 works selected for the competition.


---
Which of the 350 submissions from 27 countries around the world will come out on top? !

"Be aware of that talent before anyone else."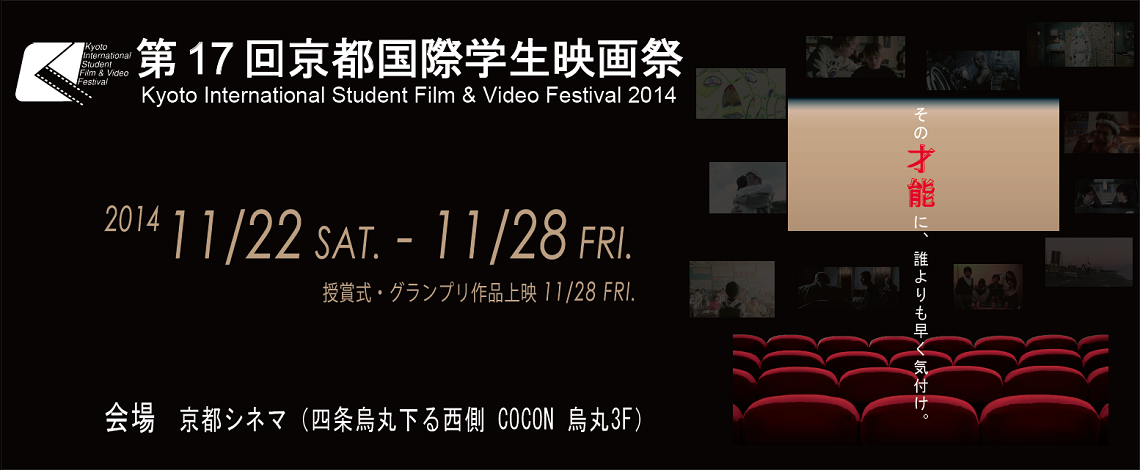 ▲Preview movie now available! ! ▲
Competition Division Program Introduction
Program A

①11/22 (Sat) 16:30~18:30




②11/25 (Tue) 16:30~18:00

『BERLIN TROIKA』 /Andrej Gontcharov/German Film and Television Academy/Germany    
Konrad Gelb, a young interpreter, finds himself caught between two rival representatives of a great power, and finds himself in an emotional quagmire. The weight of mankind's fate falls upon his shoulders. 
He must balance each other's oversized egos that fill the room. (10min)
"Yellow Balloon and Ban's Teacher"/Yoko Sachi/Graduate School, Tokyo University of the Arts/ Japan
One day, the homeroom teacher of the next class suddenly shaved his head. Banno is ridiculed as bald by his students. One day, she gets on a hot air balloon and flies away. No one knows what happened after that. (4min)


"Why did Komura shed tears with a straight face? / Keisuke Kondo / Yoshihiro Nagata / Ken Ninomiya / Osaka University of Arts / Japan
Komura, a part-time job leader, falls in love with a cute junior at his part-time job even though he has a girlfriend who lives with him. (63min)
▲Preview movie now available! ! ▲
Program B

①November 22nd (Sat) 19:00-21:00
②November 26th (Wed) 16:30-18:30
『LOTHAR』/ Luca Zuberbühler /Zurich University of the Arts/Switzerland
Rotor, who sneezes and shatters things, has been shut up in an isolated basement so as not to endanger the world. Despite being very careful, one day he breaks the treasured toaster that his mother gave him long ago. Rotor, who had no choice but to go outside… (13min)
Celery / Pedro Collantes /Netherlands Film Academy/Netherlands
What if you've been heartbroken forever? What if you've never been heartbroken? For example vegetables. (15min)
"See you tomorrow" /Toshihiro Sou/Musashino Art University/Japan
The sun has stopped setting. Demonstrators in the streets are constantly complaining. Natural disasters are powerless in front of people's adaptability. Masahiro's family has collapsed as he reaches retirement age. In addition to the disappearance of his wife Tomoko, he is insulated from his daughter Saori, and is living a strained life with his only son Toshihiro. In order to regain the form of "family", Masahiro begins to move. At that time, will the sun set again? A distorted family revitalization movie that seeks to draw through the conflict between truth, fiction, and desire. (49min)
▲Preview movie now available! ! ▲
Program C

①November 23rd (Sun) 16:30~18:30
②November 26th (Wed) 19:00~21:00
『Ketchup Kid』 / Patrick Vollrath / Filmacademy Vienna / Austria
Paul, who has a strange taste for ketchup, lost his father and was depressed and isolated even in elementary school. He learns that Alexander, who is suffering from bullying, has brought a knife to school, and one day he witnesses the bullying scene. (19min)
『Salvation』 Austria / Mark Gerstorfer / Filmacademy Vienna
Through a subjective camera, it depicts the moratorium of three men and women who tumble in nonsense, disco, and curiosity about suicide. An authentic, raw, doom story. (30min)
『Albert』 / Daniel Wawrzyniak / Lodz Film School/ Poland
Albert, it's time to rest. Please take a deep breath. (24min)
▲Preview movie now available! ! ▲
Program D

①November 24th (Mon/holiday) 19:00~21:20
②November 27th (Thursday) 19:00~21:20
"Natural" / Emmanuel Osei-Kuffour / New York University / USA
On his first day of school after moving to a small town in Japan, a half-black father, half-Japanese mother tries to prove to his classmates that his dark skin is not a disease. (17min)


"Okinawa/Yamato" / Kenta Higa / Wako University / Japan
People who were born and raised in Okinawa refer to "Japan other than Okinawa" as "Mainland, Yamato, Mainland" and people who live there as "Nature, Yamatounchu, Mainlanders". A documentary that looks for the mental line between "Okinawa" and "Yamato" that can be seen from just such a name. Higa, who was born in Okinawa but lives in the mainland, goes back and forth between "individuals and society," "participants and non-participants," "conflicting ideologies," and "fiction and reality," highlighting the "line." do. (98min)
▲Preview movie now available! ! ▲

---
▽ ▼Recruiting Individual Supporters▼ ▽
The executive committee is
looking for individual supporters to support the operation of the Kyoto International Student Film Festival . Applications start from 1,000 yen.
We look forward to your support! !

---
You can also see the details of activities and events from the following sites.

【https://www.facebook.com/KISFVF】

【@kisfvf】
---
inquiry
17th Kyoto International Student Film Festival Executive Committee
600-8216 Campus Plaza Kyoto 6F, Nishinotoin-dori Shionokoji, Shimogyo-ku, Kyoto
TEL: 075-353-9430 FAX: 075-353-9101
MAIL: info.2014@kisfvf. com
twitter: @kisfvf
Web: http://www.kisfvf.com