Kyotango Film Commission
The Kyotango Film Commission is a project launched in Kyotango City in 2013 with the aim of developing a tourism town through attracting film production locations and supporting film production.
The Kyoto International Student Film Festival collaborated with Kyotango City to hold screenings for Kyotango citizens and local high school students over two days on August 20 (Wednesday) and 21 (Thursday).
With the theme of this year's film festival, "pop-up film festival," the executive committee of this film festival went to Kyotango City to deliver student films.
Project overview
Kyotango Film Commission collaboration project (summer)
| | |
| --- | --- |
| schedule | August 20 (Wednesday) and 21 (Thursday), 2014 |
| place | Kyotango City Mie Public Hall/Kyoto Prefectural Amino High School |
| organizer | Kyotango Film Commission |
| participant | 7 executive committee members, 20 general visitors, 30 second-year students from Amino High School |
Content/implementation report
First day
On the first day, four student films that had been selected for this film festival in the past were screened in the Mie/Morimoto district of Kyotango City.
In addition, after the screening, we had a barbecue with the locals and got to know each other, and we were able to deepen exchanges while talking about the films being screened and our daily student life.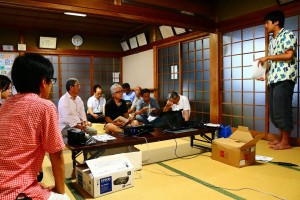 the 2nd day
On the second day, we headed to Kyoto Prefectural Amino High School. Two past winning films were screened in front of about 30 second-year students of the Planning and Management Department of Amino High School. also talked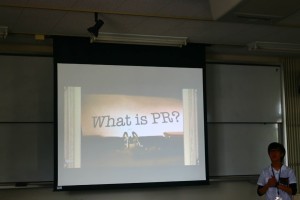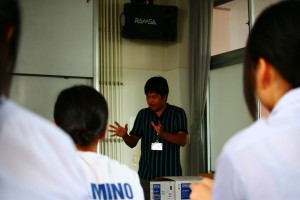 After the exchange meeting with the high school students, the people of Kyotango City Hall will take you to sightseeing spots such as Tateiwa, where many movies and dramas are filmed, and you can fully enjoy the nature and history of Kyotango. is ready!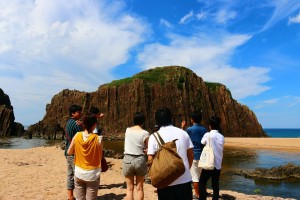 after two days
Through this activity, we were able to deliver the film to people who usually have few opportunities to see it at the theater, and through the screening, we were able to interact and exchange opinions with the local residents. This project was a pre-PR event for the main festival held in November and "Kyotango Film Week 2014" in December. It was an opportunity to reconsider how we should be, and it was also an opportunity to learn about regional revitalization.
We are planning several pre-events this year. While continuing these activities, we aim to become a film festival where the fun of student films is more widely recognized by having everyone who visits come to see it comfortably in the run-up to the main festival in November.
*The next day, the Kyoto Shimbun (Kyotango area version) covered the event.


Inquiries about planning
Kyoto International Student Film Festival Executive Committee
〒600-8216 Campus Plaza Kyoto 6F Nishinotoin-dori Shiokoji Shigeru, Shimogyo-ku, Kyoto
TEL: 075-353-9430 FAX: 075-353-9101
MAIL: info.2014@kisfvf.com
twitter: @kisfvf
Web: http://www.kisfvf.com