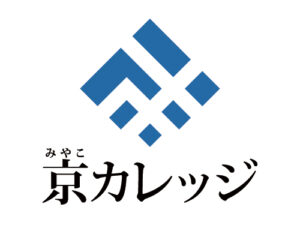 Kyoto Studies Course 15th Anniversary Special Program "The Four Seasons and Festivals of Kyoto"
On March 7, prior to the start of accepting applications for Kyoto College, a lifelong learning program provided by Kyoto City and the Consortium of Universities Kyoto for working adults, the "Four Seasons and Festival of Kyoto" was held at Campus Plaza Kyoto as a special event. The purpose of this event is to spread awareness of the "Kyoto Skills Training Course" established at Kyoto College so that students can learn about Kyoto in depth from various perspectives. This event was planned to commemorate the 15th anniversary of the Kyoto Studies Course of the University Consortium Kyoto, which provides courses for this course.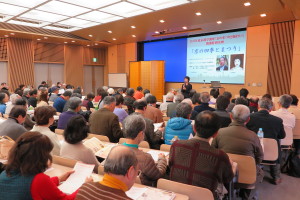 On the day of the packed venue
, in addition to a lecture by Toru Yagi, a professor at Bukkyo University who specializes in folklore, Ms. Hinagiku, a native of Higashiyama Ward, Kyoto City, who is active as a geiko of Gion East, appeared as a talk guest. The 280-seat venue was filled as soon as it opened, and about 400 participants listened to Professor Yagi and Hinagiku-san talk by playing a video of the main venue at another venue in a hurry.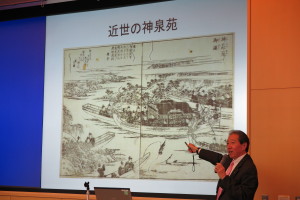 Professor Yagi,
who chairs the planning committee of the Kyoto Studies Course, who gives a lecture on the theme of the four seasons and festivals in KyotoProfessor Yagi, gave a lecture on the atmosphere of the festival throughout the year in Kyoto. He explained that there are many fire festivals from spring to summer and from autumn to winter, and encouraged people to participate in the Kyoto Studies Course "Kyoto Festival and Bustle" starting in April to learn about the transition of the Kyoto Festival.
After the dialogue lecture between
Professor Yagi and Hinagiku, Hinagiku joined the stage and responded to questions from Professor Yagi by expressing episodes from his maiko days and his thoughts on his juniors. When asked about the Kyoto festival, he replied that he loved the relaxed Kyoto festival in Kyoto language, and the venue was in a peaceful mood. Dances and flutes were also performed to add color to the venue. Visitors seemed to have praised the event, saying, "It was a very interesting project," "It was a valuable experience to hear the stories of active geiko," and "Professor Yagi's talk was easy to understand, and I would definitely like to take the Kyoto Studies Course."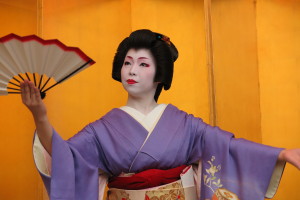 Hinagiku
, who performs a dance, will apply for all 14 sessions of the 2015 Kyoto Studies Course "Kyoto Festival and Bustle" from March 10 to 21, the same period as the application period for Kyoto College. It is also possible to participate in one session. For details, please see the website of Kyoto College's "Kyoto Studies Course".
Application to Kyoto College "Kyoto Studies Course"
For more information about the Kyoto Studies Course, please see the website.

Contact information
University
Consortium Kyoto Kyoto College TEL
075-353-9140
FAX 075-353-9121 〒600-8216
Campus Plaza Kyoto, Shimogyo-ku, Kyoto