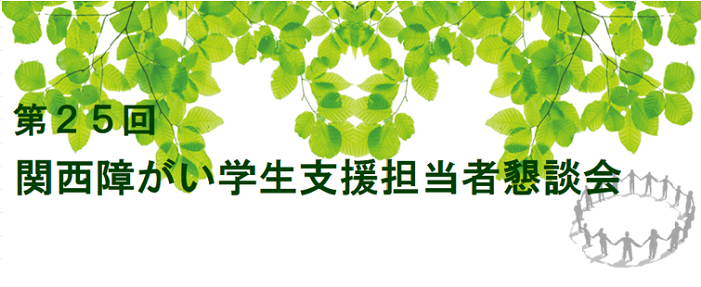 The Kansai Roundtable of Support for Students with Disabilities (KSSK) is a gathering of practitioners for lively discussions, exchanges of opinions and information, and builds networks on various themes related to support for students with disabilities, based on the basic principle of a working person's perspective.
◆Date & Time: Friday, September 4, 2020, 14:00~17:15 (Reception opens at 13:00) ◆Venue: Streaming roundtable via
Zoom ◆Target: Faculty and staff
members who are involved in or interested in supporting students with disabilities at universities and junior colleges in the Kansai area ◆Capacity: 50 people (first-come, first-served basis)

◆Participation fee: Free
◆Application form: Please click here to apply
. 【Application Period】2020/7/21(Tue)~2020/8/11(Tue) ※Deadline will be
closed as soon as the capacity is reached. Application acceptance has ended              .
Contents & Schedule
13:00
Registration starts
14:00
Opening Remarks
14:10

Plenary Session (1) Topic provided "Affected by the spread of new coronavirus infection" (dialogue format)


≪Lecturer≫
Emiko Tsuchihashi (Chief Coordinator, Support Office for Students with Disabilities, Student Support Center, Doshisha University)

≪Contents≫
In the spring semester of the 2020 academic year, due to the spread of the new coronavirus infection, we have been proceeding through trial and error, such as holding entrance ceremonies and university events
, and distributing classes online.
Therefore, looking back on this spring semester, we would like to share examples
in a dialogue format about the challenges leading up to non-face-to-face classes and responses, new cases that require mental support,
and alternative measures for university events. Based on these cases,
subcommittees will dig deeper and take them home as hints for considering support for the fall semester.

14:40
Rest and move
14:55

Breakout Sessions

Due to the spread of the new coronavirus infection, universities are required to take new measures that are not conventional in their support services for students with disabilities
, such as online lectures.
The purpose of the A~C subcommittee is to exchange information on the issues and initiatives faced by each university and junior college, and to discuss and discuss how to support students with disabilities under
the current situation, the issues expected in the fall semester, and how to
solve them.

A Reasonable Accommodation in Online Lectures Capacity: 20 people In the spring semester of this academic year, online lectures were incorporated, and many people
may have faced unprecedented challenges such as
information security and the provision of reasonable accommodation.
In this subcommittee, we will share examples of efforts by each university and junior college, from internal coordination to the implementation of
support, and exchange opinions.

B About the mental health of students in the corona disaster Capacity: 15 people
Currently, due to unusual situations such as admission restrictions, some universities are beginning to move toward resuming regular classes
, such as relaxing behavioral standards. Students express not only stress and fatigue from unfamiliar remote lectures and changes in their lifestyles
, but also anxiety about the resumption of face-to-face classes.
If this situation continues, it is expected that various mental and physical reactions such as truancy will appear.
This subcommittee will be an opportunity for faculty and staff to think about mental support for students
while paying attention to the work environment of the Corona disaster.

C. Support for university events and student life Capacity: 15 people
Many university events such as entrance ceremonies and open campuses have to
be canceled or postponed. There is a situation, and it is expected that dealing with entrance examinations will be an issue in the future. In addition, students with disabilities face difficulties
in various aspects of student life, such as extracurricular
activities, dormitory life, and job hunting. This subcommittee is an opportunity to discuss such university events and support
for student life. Faculty and staff members other than the support department are also welcome to participate.


16:25
Rest and move
16:35
Plenary Session (2) Conclusion
17:15
closing
◆Application Note: Please be sure to check the following.
Participation in <Subcommittee>
Please select your desired ranking in subcommittees A~C up to your second choice. Please note that we may not be able to meet your request because it will be on a first-come, first-served basis.
【Note 1】In order to reflect the topics to be covered by the subcommittee, please enter your university's problems, issues, topics you would like to cover,
etc. in the participation application form.
  Example: Points to note when conducting online mental consultation
【Note 2】Please indicate in advance the number of students at your university and whether there is a support system (if so, the number of section staff).
【Note 3】If the capacity is exceeded, priority will be given to the first-come, first-served participant. The URL of the subcommittee you will participate in will be included in the email sent about 7 days before the opening
of the event.
* If you cannot send the participation application form, we will respond by e-mail separately, so please contact us to
that effect.
* The personal information you provide will be used only for purposes related to the operation of KSSK. Please note that for the
operation of the subcommittee, the members of the executive committee may contact you separately.
<What should you prepare before participating>
Please prepare the following for the online event.
・ Environment
connected to the Internet ・ Please install the Zoom application.
・ Please set the name displayed on the Zoom screen as "Your university / junior college name (full name)".
【Organizer, Planning and Management】

 Organizer: University Consortium Kyoto
Planning and Management: Kansai Student Support Staff with Disabilities Executive Committee
Contact information
University Consortium Kyoto Student Support Division
Reception hours: Tue~Sat 9:00~17:00 〒600-8216
Campus Plaza Kyoto
, Shimogyo-ku, Kyoto TEL:075-353-9189 FAX:075-353-9101