The 17th Kansai Roundtable Meeting for Students with Disabilities Support Staff
On September 15, the "Kansai Student Support Staff with Disabilities" (KSSK) was held at Campus Plaza Kyoto, with the aim of providing a place for students with disabilities to exchange opinions and interact with those in charge of supporting students with disabilities at universities in the Kansai region.

For the 17th time, under the theme of "Osaka University's Support System and Support Practices: Current Situation and Challenges," Project Associate Professor Naoto Mochizuki of the Osaka University Campus Life Support Center and Lecturer Satoko Nakano provided topics on their initiatives and issues. In the subcommittee that followed, participants were divided into five groups under the three themes of "Support System," "Introduction to Support Practice," and "Support Practice," and exchanged opinions on how to support students with disabilities based on the various issues and case studies that each university faces. 

Perhaps due to the influence of the Act on the Elimination of Discrimination against Persons with Disabilities enforced in April 28, 70 people wished to participate, exceeding the capacity of 65 people, indicating a high level of interest in KSSK. In the participant questionnaire, there were comments such as, "It was very interesting to hear about Osaka University's talk because it showed various realities," "I found clues to improve the issues in my university's system," "I was able to listen more closely to other universities because I had plenty of time for subcommittees," and "Support for students with disabilities is a difficult issue with no answers, but it was good to know that everyone has the same problems." It was also an opportunity for the participants to gain various insights.

The feature of KSSK is that regardless of the size of the university or whether there is a support system, regardless of the position or experience, it is possible to have frank and casual discussions at the level of the person in charge, and to form a network of universities and the person in charge. The next meeting will be held around February~March 2017. When the contents of the event are decided, we will inform you on the website of the University Consortium Kyoto.  
In the breakout session, we shared our concerns about support methods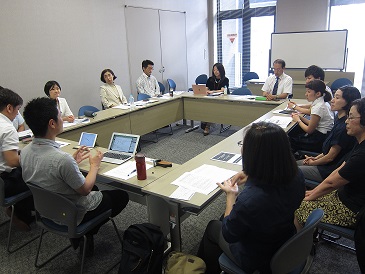 Please subscribe to our ≪ mailing list≫
We have created a KSSK mailing list to deliver information on KSSK events. If you wish to register, please inform the secretariat of your university name, affiliation, position, name, e-mail address, and telephone number.
KSSK Secretariat E-mail Address: kssk-kanji-ml■consortium.or.jp (*Please change the ■ part to @ and send)

Related page<>
The 17th Kansai Student Support Staff Meeting on Support for Students with Disabilities
   About the holding of