The University Consortium Kyoto will hold the "Note-Taking Training Course (Beginner Edition)" for students, faculty and staff as follows.
In recent years, as many students with hearing impairments have been studying at universities, there is a need for "information security" in lectures. A typical way to deal with this is "note-taking," in which information about lectures is written down to deaf students. Currently, there is a shortage of supporters at each university, and the increase in supporters is a very important issue for deaf students studying at universities.
Therefore, this time, in order to let more students, faculty and staff know about note-taking, we will hold a "note-taking training course" for those who are interested in note-taking (inexperienced) or those who have just started supporting (beginners). Why don't you start note-taking as a step to create an environment where students can support and learn from each other, and to guarantee the rights of everyone who studies at the university?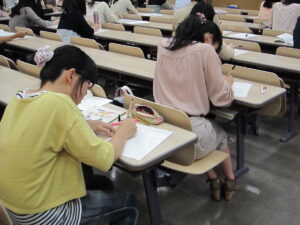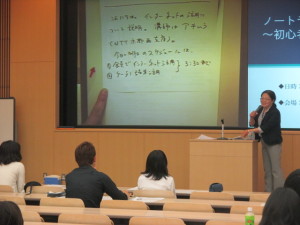 Handwriting take experience Last year's lecture
2016 Note-Taking Training Course (Beginner) Outline (
Download PDF)
On

Friday, September 16, 2016 15:00~17:45 (scheduled to end)

Venue

Campus Plaza Kyoto 4F Lecture Room 2 (access)

(〒600-8216 939 Higashishiokoji-cho, Shimogyo-ku, Kyoto)

Target

Those who have no experience in note-taking or beginners (regardless of students, faculty and staff)

Quorum

100 people (first-come, first-served basis)
* For reasons of preparation, advance application is required, but if there is a capacity available, we will accept it even on the day, so please contact us at the following address.

Participation Fee

Free

Content

(1) Presentation
of experiences by deaf students and supporters (2) Understanding
of note-taking methods (3) Practice of note-taking (handwritten take experience)

How to apply

Please contact the University Consortium Kyoto Student Exchange Division (in charge: Chikuda) in advance with the following information in your e-mail.
【Address】GK-ML■consortium.or.jp
(Please convert the ■ part to @ and send
) 【Name】2016 Note-taking Training Course Application
◆ Contents
of description < Student > (1) Name, (2) University name, (3) Grade <faculty and staff> (1) Name, (2) University name, (3)
Affiliation
※ Personal information will be used only for purposes related to the operation of this project.
* If you need consideration due to disability, etc., please contact us in advance.       

Application Period

Tuesday, July 12, 2016 ~ Monday, September 12,
2016 (Deadline as soon as capacity is reached)

Organizers

University Consortium Kyoto-Kyoto City Welfare Volunteer Center
Contact us