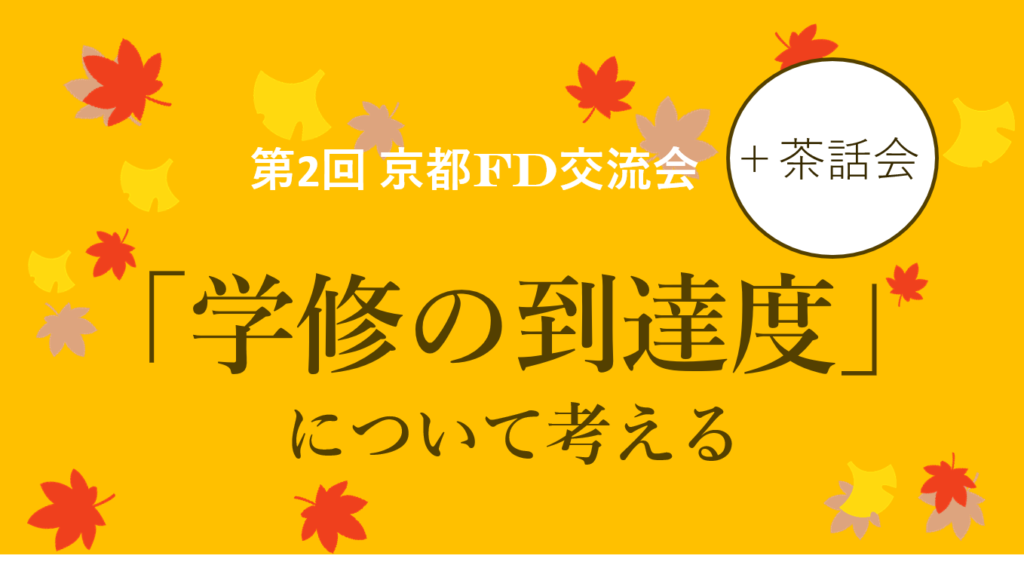 We have launched the "Kyoto FD Exchange Meeting" as a place where you can interact with faculty and staff of other universities on various themes related to FD beyond the boundaries of your university.
We sincerely look forward to your participation.
2nd Annual

Think about
"learning achievement"
Why don't you think about "learning achievement" with the participants, from "why do you have to measure learning achievement in the first place" to regular reports and tests?
In small groups, you will be able to exchange opinions freely.
Let's bring together what you want to hear about the efforts of other universities and what you can introduce in the efforts of your own university, and interact with the faculty and staff of other universities.

After the exchange party, a tea party will be held. Participation is free and you can leave in the middle. Please feel free to join us.

You can see the state of the first session from the following URL.

https://www.consortium.or.jp/project/fd/interaction
◆ 2nd Information Flyer [Download here]

Would you like to

Wednesday, November 13, 2019 18:30~20:30 Kyoto FD Exchange Party
20:30~20:50 Tea Talk

Venue

Campus Plaza Kyoto 2F Hall
■Eligibility
Faculty and staff
of universities and junior colleges * Full-time or part-time, regardless of the number of years of work * You can

participate regardless
of whether you are a member school or a non-member school ■ Capacity
40 people (first-come, first-served basis)

■ Participation fee
Free

■ Application
" Please apply from the "Apply" button.
Application deadline: Friday, November 8, 2019 ⇒ application has been closed.


■ Contact Consortium of Universities Kyoto in charge of FD business TEL 075-353-9163 FAX 075-353-9101
〒600-8216 Campus Plaza Kyoto
, Shimogyo-ku, Kyoto
*Business hours: Tuesday ~ Saturday 9:00~17:00 (excluding year-end and New Year holidays)