In the "Internship Progress Course" of the University Consortium Kyoto, from mid-June to late November, I worked on a project presented by the host company. Activity reports and their results were announced at the results report meeting.
On the day of the event, in addition to those involved in the project, university faculty and staff, companies, and last year's graduates also attended and watched the presentations of the students.
At the completion ceremony after the results report session, the coordinator faculty handed out a "certificate of completion" for each project, and this year's "internship progress course" came to an end.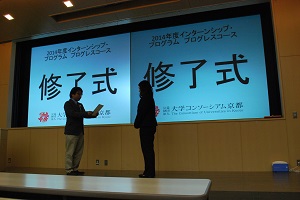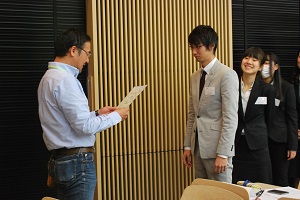 Implementation overview

About the announcement
Each project was given 25 minutes for the result report meeting, and the progress and time allocation were devised according to the project.
Below are excerpts from the presentations for each project.
Worked to publish the free paper "Hitomanabi". The free paper will be published on Tuesday, November 25th, and will be installed at universities in Kyoto and other areas.
I explained the flow of issuing free papers by introducing specific figures for income and expenditure of expenses, the number of sales, and listed companies.
During the Q&A session, I was asked, "How did you make use of the student's perspective?" .
We will also promote the event "University 3rd year independent research "Working real"" to be held on December 20th (Sat) at Kiratto Plaza Kyoto Industry Hall.
See the project website
below) At the social gathering, we asked students from other projects to cooperate and took a picture with everyone holding a leaflet.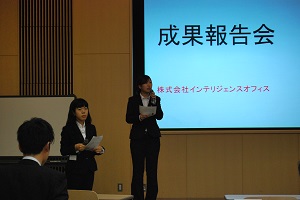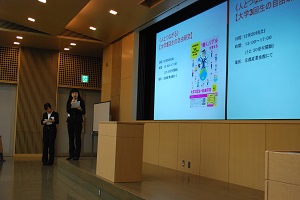 Yumecom Co., Ltd. -Learn the process involved in publishing information magazines for your own old age and family caregiving-
A project to edit and produce an information magazine called "LifeLike" published by the host company.

I wanted to write an article that would help elderly people with few hobbies to set goals, so I planned and adopted an interview article with a person who started running marathons at the age of 92.
I interviewed and created a manuscript while thinking about what I wanted to convey. Although I left the design to a specialist, I came up with a rough draft myself, and after confirming it with the reporter, I submitted it and completed it.
When my article was completed, I asked actual elderly people to read it and listened to their opinions, which gave me a positive impression.
Curiosity and a wide range of knowledge are important when writing articles, but above all, "passion" is important.
Photo right) We distributed information magazines with pages that we were in charge of at the venue.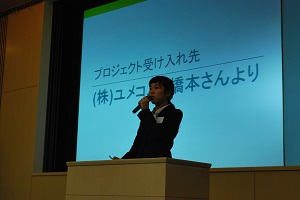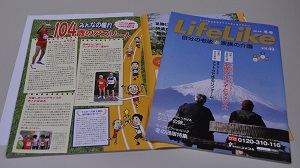 As part of a collaborative project with Kyoto City, we considered ways to support international students and plans for exchanges in preparation for increasing the number of international students in Kyoto.
Hearing opinions from international students currently in Kyoto about what they need. After listening to various requests, we divided the content into two parts, "life support" and "cultural understanding" for international students, and approached it with two methods: "buddy program" and "information".
In proposing a BBQ and a hot pot party as an exchange project, I realized that there were things that I could not understand just by visiting the actual site and thinking about it.

Photo right) We distributed a guidebook and map with information such as Wifi and transportation as deliverables.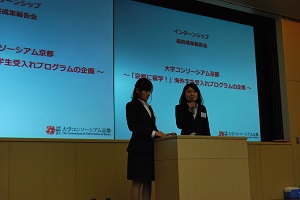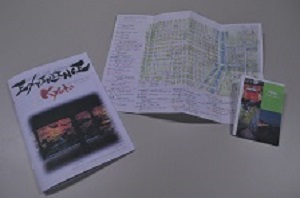 The goal is to spread "Yamashina-san". The activity of "Yamashina-san" is to let people know the attractiveness of the people of Yamashina Ward, Kyoto City, and to come to like Yamashina.
To that end, we held Yamashina-san fairs, gathered new members, conducted interviews, and created free papers. In the interviews, we put importance on "connecting", "interacting" and "listening to voices" with local people, and posted articles on the website and free papers. In order to gather new members, we asked universities near Yamashina Ward to set up flyers.
As we proceeded with our interview activities, the number of people who said they knew about Yamashina-san increased, and we began to see the results of our activities.

Introductory photo of activity Facebook

(middle/right) Distribution of free paper "Kyo no Yamana-san" consisting of interview articles.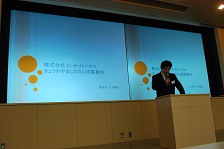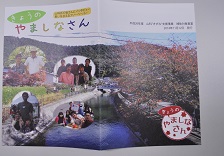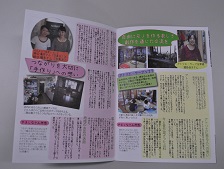 NPO Kino Kankyo -Creation of an environmental management support program-
We plan to hold events to make people feel closer to environmental issues.
I thought about various plans, but hit the wall of expenses, transportation, etc., and reworked the plan many times.
Meanwhile, I had a chance to participate in the "Paper Festival" held at the Kyoto Ecology Center on Sunday, November 2nd, and I was able to plan and exhibit an event using "Shinbunshi".
On the day of the event, the booth was crowded with many children, and I felt it was worth planning.
Also, it was decided to hold another event that did not fit the schedule.
I used to think that planning was about coming up with ideas and then implementing them, but I found that it was difficult to realize them after thinking about them.
Photo right) I made a presentation with Kankyo Kino and the coordinator.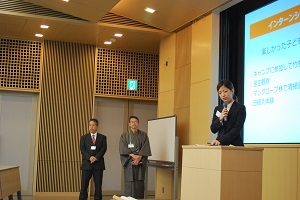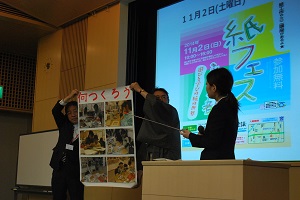 Nasca Co., Ltd. -Nail posting site operation (search engine measures)-
A project to increase the number of users of the nail posting site " Nail Crew ".

I didn't get the results I wanted at first. For that reason, I decided to study SEO measures during the sluggish period and try to achieve my goals by devising a guidance site.
I thought about how impactful the first three lines of your site's content would be in a search. Also, the number of updates once a day has been increased to 13 times. Although it was summer, the article was conscious of autumn and posted an article that anticipates the season. In addition, various approaches were taken, such as incorporating seasonal search keywords and using twitter.
As a result, we were able to significantly update the target set for the number of accesses.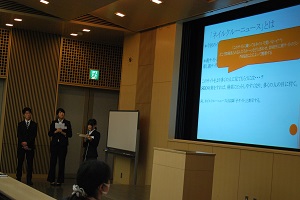 We did activities to make the summer festival held on August 31st (Sun) a success.
With the concept of the festival as "lights of Yogo connected from here", we planned to make it a "sustainable festival".

Along the way, I lost track of my goals, and it became difficult for me to interact with my children due to impatience and fatigue.
Taking advantage of my mistakes, I prepared for the day while doing things such as holding meetings on holidays to reflect on the work and opening the door so that my children could talk to me more easily.

Taking advantage of the fact that a typhoon came last year, we simulated rainy weather, etc., but we were blessed with good weather and were able to hold a beautiful outdoor festival. With the participation of many people from the local community, the training was based on the theme of "From Here".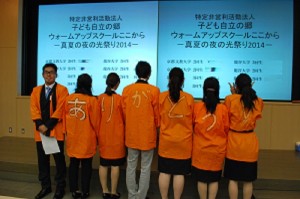 From August to September, we went to the assigned elementary and junior high school according to the desired subjects and did practical training.
The trainees who went to elementary school recreated in a play the teaching methods that change between the lower and upper grades, as well as teaching methods such as map symbols, calculations, and factory processes that arouse interest in them.
The trainees who went to junior high school gave presentations on the results of their respective tasks, such as the sports festival, devised class methods, how to get people to see the notices, and reading habits.
It was a valuable experience to practice each subject at the site of elementary and junior high school.
Shikoku Island League plus ~Let's run the 2014 Shikoku Island League official game in Ojiyama Stadium (Shiga)~
On September 15th (Monday), the official game "Kagawa OG vs Tokushima IS" of the independent professional baseball league "Shikoku Island League plus" was held at Ojiyama Stadium. We worked on a project to do this, divided into sales, planning, and public relations departments, and worked with the goal of not making a loss. As the first attempt, it was also taken up in newspapers.
We disclosed the targets and actual figures for the number of customers, the amount of money, the number of responses on twitter, etc., and the number of sales, and announced the reflection on the targets that could not be achieved. Even if you know that planning, communication skills, cost awareness, and execution ability are important, you can't do it. I was faced with this. However, it was also an internship that allowed me to grow as I learned about the gap between communication skills that I had envisioned and communication skills that are relevant to society.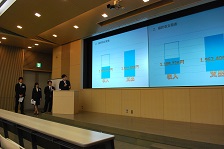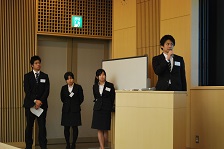 Contact information
Consortium of Universities Kyoto Internship Promotion Office
TEL 075-353-9106 FAX 075-353-9121
Campus Plaza Kyoto, Shimogyo-ku, Kyoto
600-8216 17:00 (excluding year-end and New Year holidays)